LETTER FROM NHRA PUTS PRO STOCK'S FUTURE IN DOUBT – CompetitionPlus – October 4, 2017
This makes me absolutely ill… first it was Modified Production, then Pro Stock Truck, now my favorite category on the chopping block. I believe we are witnessing the death of our sport.  – Roger Young
Stunning reversal

:
Memories of Modified: The Rise and Fall of Modified Eliminator – August 2010
NHRA announces changes to Pro Stock qualifying format for 2018 – NHRA – October 4, 2017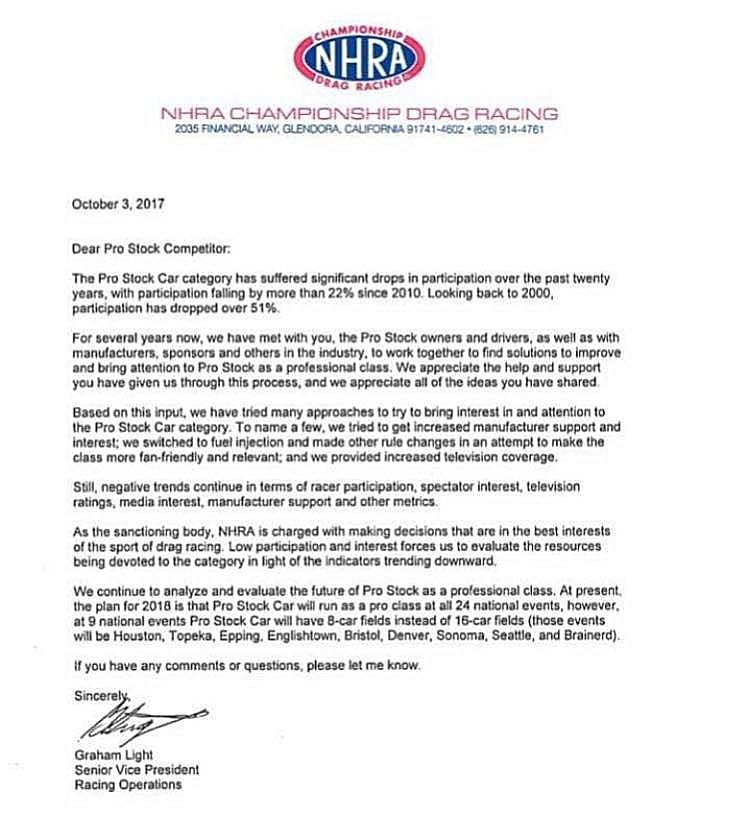 My e-mail to NHRA – October 5, 2017:
I've seen the letter to the Pro Stock teams. Reminds me of when Modified Eliminator & Pro Stock Truck were sent packing and like then, I believe this is a serious mistake.
When you added the rev-limiters it took the Mopar camps out of the Pro Stock program and this has been well documented. It appears to me 2018 will be the final season for the last dedicated automotive manual-transmission professional class.
This is NOT the NHRA that I remember when I started racing in the late 60's. I ask that you continue to work with the Pro Stock teams to keep the category viable. Pro Stock is not the only professional category that did not feature full fields in 2017. – Roger Young
I've provided some additional thoughts in the comment section on how the Pro Stock teams might help their situation.  – Roger