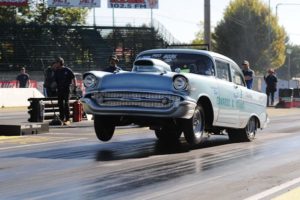 In June this year I wrote an article, What Does the Future Bring discussing my feelings about the importance of our racing site.
In April 2018 Pam and I will be starting a new chapter as she retires and I'll be focusing more on our time together. Throughout the years I've attempted to make our racing site informative, educational and present a positive image of Edwards & Young Racing, our sport and our sponsors.  
Therefore with Pam and I beginning new adventures in the Spring of 2018, I will be posting fewer updates, less pictures and video productions. Videos are very labor intensive. 
I'm proud of my sons and what we've been able to accomplish together over the years and they have played a vital role in maintaining the '57.  And I'm equally proud of this site I created and our 95,000 visitors per year confirms that this site is still relevant.
I wish all of you a blessed holiday season and safe travels with your family & friends and I look forward to seeing you in the Spring at the track!  
Sincerely, 
Roger Young – roger@northwestvets.com