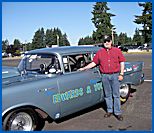 – Roger Young
Our 2018 Promo:
Our 2017 Racing Season in Review:
Ram Clutch Testing on 8-26-2017 – Pacific Raceways:
For more details on this new clutch, click here!
Broken Axle Hit on June 11th 2017:
BC Super Shifters Racing – June 10th & 11th 2017:
Our 2017 Promo – December 2016:
Flashback – June 28th 2003:
Chris at the National Open at Bremerton Raceway in Pro Bracket with his Chevelle. 350 c.i., single 4-bbl, foot braking!
Our two best hits from the BC Super Shifters race at Pacific Raceways on June 11th & 12th 2016:
April 2016:
April 2016:
Robert Fedyk Interview with Roger Young – February 2016
Our tribute to our family friend and racing partner, Tom Edwards, 2016:
Memories of Modified Eliminator, December 2015:
Our 2016 Promo Video, October 2015:
Chris Young on June 20, 2015:
Robert Fedyk of Reaction Time Media put this awesome video together at the B.C. Super Shifter race on Saturday, June 13th 2015 at Pacific Raceways. Ride along with us in our old buggy! Thanks Robert for the OUTSTANDING job and it was an honor having you feature us! – Roger
Edwards & Young Intro Video – May 19th 2015:
2014 '57 Highlight video:
At SIR (Pacific Raceways today) in 1996, our '57 with the old ST-10Y 4-speed and old hood scoop. With the 4-speed used until the end of the 1996 season, the 1-2 shift came after the 60′ clock:
A couple videos I put together from old VHS tape in December 2013:
2013 In-car video of our '57:
Here are a couple of new videos I put together in August 2012 you might enjoy!
2012 feature video on Chris' Super Pro '71 Chevelle:
2012 feature video on the history of our '57 Chev:
2012 Motivational video for Paul in Sportsman:
In August 2011, Chris attached his GoPro to the chassis of his Chevelle which produced the following:
Here is just a few samples of the videos we have available on our Edwards & Young Racing website.
Here is our '57 Chev at Mission Raceways for the Langley Loafer's race  in 2003:
This was the maiden run for our 406 SBC at Bremerton Raceways in April 2009 with Chris driving:
This was Torri driving her '66 Pontiac Tempest at Pacific Raceways in June 2009:
Here's Paul in 2008 beating a dragster at Pacific Raceways:
Again, these are just a sample of what we have posted on our website!