In December 2015, we purchased a Snap-On Vantage Ultra to up our electronic diagnostic capability. As the cars have advanced with more electronic components, we felt it was essential that we have the testing capability to be capable of running lab scope tests on the various components.
The Vantage Ultra has the capability of testing virtually any automotive electrical component and features a high-speed 2-channel lab scope and graphing meters. You can test everything from fuel injector amperage draw, rise time and pulse width, electric motors such as fuel pumps, fan motors and relays, switches, charging system including alternator ripple tests for open/shorted diodes, parasitic draw, ignition scope patterns (coil, plug wires, sparkplugs), ignition pickup patterns (both distributor and crank triggers), and amperage draw/voltage patterns of any electronic component, oxygen sensors, MAF sensors, crank/cam sensors, ABS sensors – the list is endless with the available optional accessories.
It is our hope that by testing the individual components in our cars, we can find potential problems before they show up on the track.
Snap-on has a video on the meter here and we've added snapshot patterns of various component testing, including MSD pickup and spark patterns below.
We also have a separate page devoted to MSD Troubleshooting. – Roger
Fuel Pump patterns:
Notice the MagnaFuel pump on our '57 and Chevelle pulls nearly 3x the amperage as Paul's Mallory pump shown above on this page. This graph above shows the high volume pump is drawing 9.5 amps vs the 3.2 amps of the Mallory street/strip pump. 
Ignition patterns:
The following two patterns are from Paul's Mustang with the MSD 6AL ignition. The upper photo captures four cylinders showing 4 to 5 sparks per cylinder for approximately 6ms, compared to the 2ms firing line shown above in Pam's truck with the GM electronic ignition. The second photo below shows the MSD magnetic pickup pattern.
With the Snap-On Shop Stream software you can see all eight cylinders in a streaming video on your computer.
Electric motors:
Below is using the basic multimeter function, showing only amp draw using the optional low-amp probe:
Charging System:
Mass Airflow Testing:
Most cars with port injection have a mass airflow sensor (MAF). Below is a MAF frequency pattern off my Buick 3.3L V-6 at approximately 1500 RPM, which is good. When testing a MAF sensor, tap on it LIGHTLY while viewing the pattern which will commonly show a defective sensor by indicating a major dropout and a miss in the engine.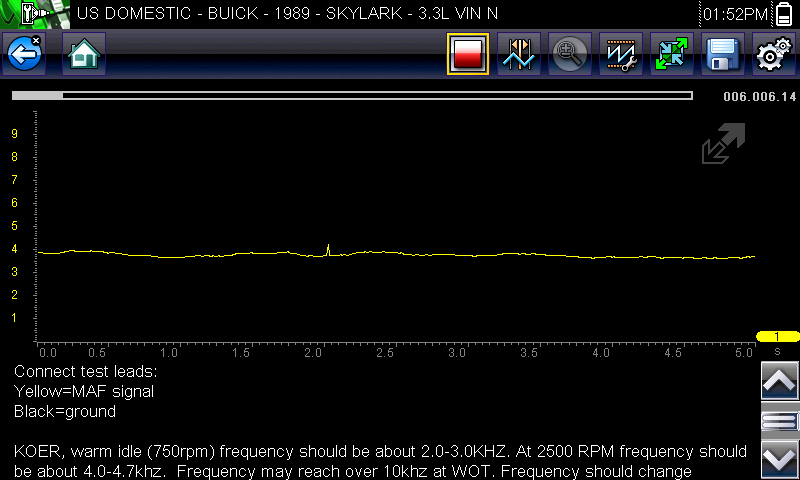 This handheld diagnostic tool allows us to see & capture images & complete data streams of problems that were once only available to a professional technician working in a shop with a $35K scope, such as the one we had in our shop and used before I retired.
Plus this tool is portable, updates can be downloaded online, and it allows us the capability for detailed testing in the field.
Roger Young, retired