Links and articles courtesy of MSD:
Checking The MSD Ignition For Spark – [Revised October 2017]
Testing The MSD Magnetic Pickup
For quick field tests, I recommend the affordable MSD 8998 tester. It takes the place of your distributor pickup and harness. If you have excellent spark when using this tester, look at your distributor pickup and harness for the no-spark problem! If you still have no spark, next look for a bad coil or open coil wire.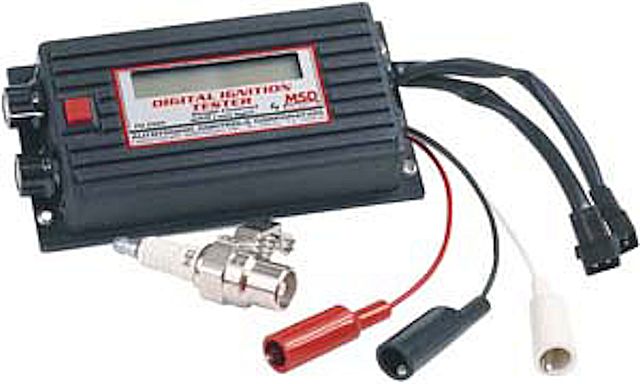 I want to share with you a problem we had with our '57 Chev years back. It had a high RPM miss – above 7400 – which also showed in the tach. After pulling our hair out and virtually replacing our entire 7AL-2 ignition, adding a shielded pickup harness and MSD power supply filter, we FINALLY traced the source of the misfire to a bad fuel pump relay that was arcing and disrupting the MSD ignition!  The arcing relay was feeding back into the MSD box via the ignition switch circuit! – Roger
Ignition patterns:
The following two patterns are from Paul's Mustang with the MSD 6AL ignition. The upper photo captures four cylinders showing 4 to 5 sparks per cylinder for approximately 6ms, compared to the 2ms firing line shown above in Pam's truck with the GM electronic ignition. The second photo below shows the MSD magnetic pickup pattern.
With the Snap-On Shop Stream software you can see all eight cylinders in a streaming video on your computer. The images below were captured by our Snap-On Vantage Ultra diagnostic equipment.
For more, please see our page on Electronic Diagnostics