In Remembrance of

1Lt. Sharon Lane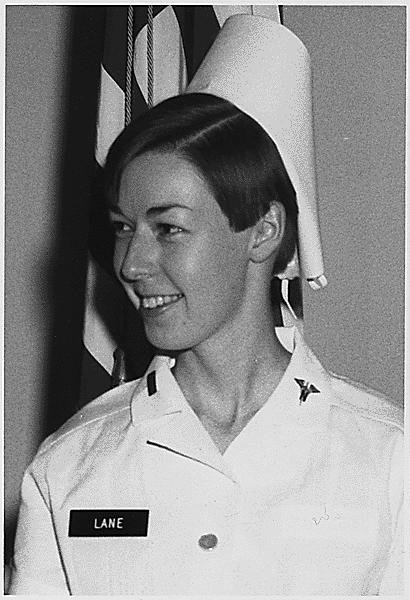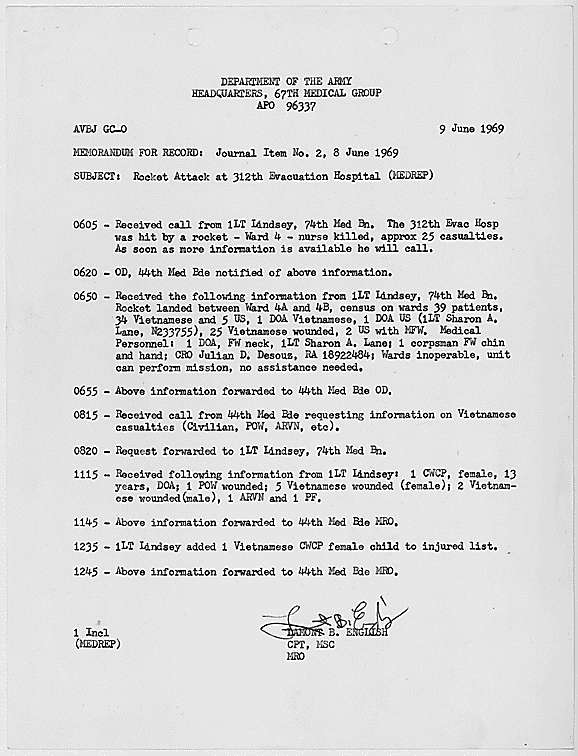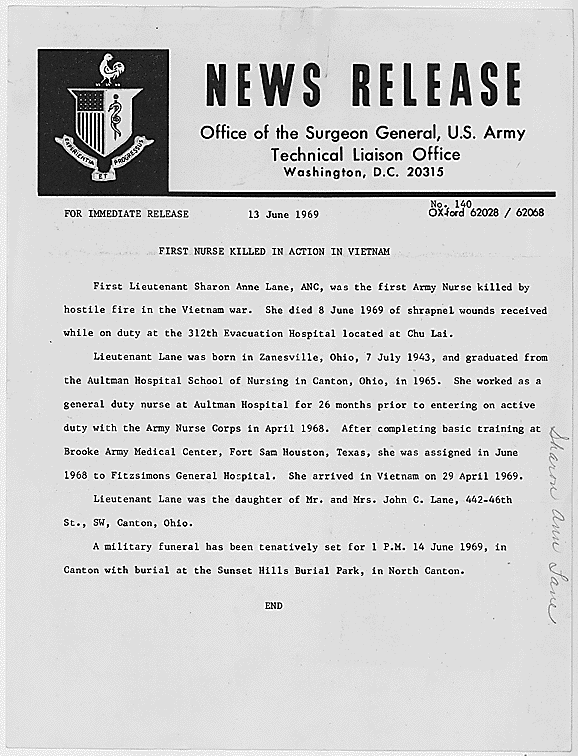 Taps...
"Day is done, gone the sun,
From the lakes, from the hills,
From the skies,
All is well, safely rest.
God is nigh"
1Lt. Sharon Ann Lane died from a shrapnel wound when the 312th Evac at Chu Lai was hit by rockets on June 8, 1969. From Canton, OH, she was a month short of her 26th birthday. She was posthumously awarded the Vietnamese Gallantry Cross with Palm and the Bronze Star for Heroism. In 1970, the recovery room at Fitzsimmons Army Hospital in Denver was dedicated in her honor. In 1973, Aultman Hospital in Canton, OH, where Lane had attended nursing school, erected a bronze statue of Lane. The names of 110 local servicemen killed in Vietnam are on the base of the statue.
======================
Photo and documents courtesy of National Archives and Records Administration.
My sincere thanks to Raymond Cormier from HHT, 3/17th Air Cavalry Squadron, for his research!
Pam Young -- Co-editor, The Northwest Veterans Newsletter
======================
Other sites featuring Sharon Lane
Sharon A. Lane Medical Library - Ft. Carson, CO.
Courtesy of Evans U.S. Army Hospital, Ft. Carson, CO.
The library features a display case with items donated by 1Lt. Lane's mother

Submitted by Joel Sundquist
Chief, Telecommunications & Pubs
Evans U.S. Army Hospital

To the



Click on Icon!
Courtesy of The Northwest Veterans Newsletter
This page's URL: http://northwestvets.com/lane.htm