I want to thank my fellow Silver Spur, Paul Clergy (Scout pilot), for sending me the 2018 VHPA calendar. June 2018 features pictures taken by our late fellow Spur Scout, Scott Evans (pilot) at or near Quan Loi, only a few miles from the Cambodian border. And it is in tribute to Jerry "Moose" Gillett (observer) & William T. Wallace, Jr. (pilot) that perished inside Cambodia on June 4, 1970. When I started the Silver Spur site in 1997 it was to honor our fallen Spurs from the Vietnam war. VHPA played a vital role in compiling the list of the entire 3/17th Squadron that perished. The etching in the calendar was taken by me in 1996 at the Vietnam Veterans Memorial in Washington, D.C. Thanks Paul for getting me a copy, you have no idea what this means to this fellow Silver Spur. God bless & Merry Christmas! – Bear
Mike Law of VHPA was the responsible party for putting together Scott's collage and the tribute for June.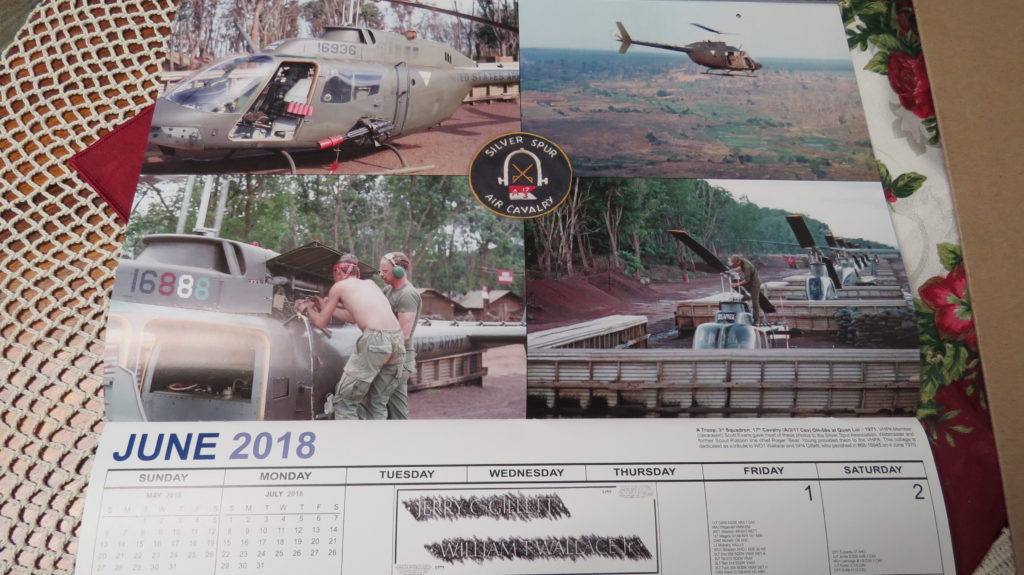 Click on image for full size photo
Caption reads:
A Troop, 3rd Squadron, 17th Cavalry (A/3/17 Cav) OH-58s at Quan Loi – 1971. VHPA Member (deceased) Scott Evans gave most of these photos to the Silver Spur Association. Webmaster and former Scout Platoon line chief Roger 'Bear' Young provided them to VHPA. This collage is dedicated as a tribute to WO1 Wallace and SP4 Gillett, who perished in #68-16945 on 4 June 1970.
The 2018 VHPA calendar is available via Acclaim Press here