SILVER SPURS AFTER-ACTION REPORT
SAN ANTONIO REUNION 9-13 APRIL 2008

PART I - AAR - NAMES AND NUMBERS
A total of 46 troopers, 1 guest speaker, and 34 other guests attended the reunion in San Antonio at some point between 9 and 13 April 2008. Grand total is therefore 81, for you gunship crews. 1 trooper each from B, C, and D Troops attended. They are always welcome. One trooper was staying in the hotel on the first day, had no previous contact, and stumbled upon us - he was a Silver Spur! Another found us Saturday evening, staying at the hotel on business. He knew of the reunion, but never dreamed he would be here. They are counted among the troopers - Norv Parsell and Robert McEachern. Each was there only one day. I also counted Mike Patterson as a guest. He is not a Spur, but is a helo pilot vet and lives in San Antonio. He was visiting in the hotel and wandered in as dinner ended. I invited him to our ceremony and he attended. Our honored guest and speaker, of course, was Joe Galloway, war correspondent. Joe also brought along his house guest, Barry Toll, who was a LRRP with the 4th Infantry Division. Some of us entertained him in the bar on Saturday night.
A record number of four former commanders attended, spanning nearly all years of the unit's previous existence from 1967-1972. They were Nate Pulliam, Bob Witcher, David Russell, and Jim Rafferty. One of our Silver Spur two-star general officers attended, MG Tim Wright.
Six other troopers had registered and wanted to attend, but had to cancel, either because of the American Airlines maintenance problems or last-minute business obligations. They are Mike Bergman, Byron Semann and his son, Larry Semann (an airman stationed at Randolph AFB,) Dave Sizemore, Dennis Rouse, and Dave Tela.
Troopers attending are listed below. If there are mistakes, it's still Waldo's fault.
Steve Aron
Ralph Barber
Dick Bares
John Briggs
Mike Carothers
Bob Carroll
Edward Tank Carson
John Connor
Tim Griffin
Danny Hackney
Rich Hanish
John Hays
Tom Hennessy
Henry Holzheuser
Frank Irvin II
Don Ivers
Sid Kelly
Ed Kictarek
Al LaGrange
Tom Marlock
Clayton Marsh
Robert McEachern
Bill McCalister
Paul Montana
Lester Nash
Chuck Oualline
Norv Parsell
John Waldo Pepper
Nate Pulliam
Jack Purvis
Jim Rafferty
Leonard Roberts
Ed Roffe
David Russell
Bill Sager
Henry Sanchez
Bob Scurzi
Bill Smith
Charles Stutzman
Glenn Summers
Gary Swartz
Ralph White
Bob Witcher
Andrew Witte
Tim Wright
Roger Bear Young
PART II - AAR - NARRATIVE
The Radisson Downtown Market Square Hotel proved to be an excellent choice for our reunion site. The very professional sales manager, who worked with Chuck Oualline and Bill McCalister for about a year of planning, gave to the Silver Spurs far more than was called for in our contract. She and the other hotel staff members showed the greatest respect for veterans.
Early arrivals came into town Wednesday, 9 April, so they could make the bus trip to Fredericksburg, Texas, on Thursday. Some of them helped the reunion committee members prepare for the other events and to set up registration in the hotel lobby. Bill Smith, a San Antone native, helped with registration and with the hospitality suite, which was open throughout the reunion and did not cost us a dime. It was part of the room block deal. Spurs met there to talk and to view each other's photos, slides, and videos. The present-day Silver Spurs, serving in Iraq, had sent us several photos, videos, and other demonstrations of their doings. Of especial interest were their combat patch, which displays the words "Silver Spur," and a U.S. flag, which was flown onboard a Kiowa during a combat mission near Baghdad.
President Waldo Pepper should be commended for all his very hard work. He came to town Tuesday and was busy throughout the week, making this reunion a success. He provided the saber, boots, and so forth for the honor table, which the hotel allowed in the lobby when we were down there, and he also set it in the banquet room Friday night. Production of the memorial DVD, and its actual projection during the ceremony, are all his work. Bear Young, our webmaster, also helped throughout the week, and he spends countless hours on our outstanding website all the time.
We quickly learned of the American Airlines maintenance problems because several Spurs arrived days late and some never arrived. This was quite disappointing for them and the rest of us.
The bus departed for Fredericksburg right on time Thursday morning, 10 April. The only cloudy weather showed itself on Wednesday, but on Thursday the front blew through and all was bright and dry behind it. We had gorgeous Texas April weather the rest of the time. Bill McCalister had planned and then led a great bus trip. He narrated Texas history and culture throughout. We made a whistle-stop/photo op pause in Luckenbach, Texas enroute to Fredericksburg. Non-Texans may not have heard of this little town made famous in a song by Willie Nelson, who lives in Austin. Country-western singers still perform here from time to time.
Upon arrival in Fredericksburg, about 80 miles from the hotel, we were turned loose to visit the large Admiral Nimitz Museum (this was his home town) and to shop in the myriad little stores all along the town's main street. We all met again for a German lunch in a (surprise) German restaurant. After lunch, we shopped and browsed some more until time to return to the hotel, in time for the afternoon reception.
Registration in the lobby continued on Thursday while the day-trippers were gone, as the bulk of Silver Spurs arrived at the hotel.
Our first big gathering occurred Thursday evening, outdoors in the pool/central courtyard area, a welcome reception. This was an event provided by the hotel, and cost us only the price of happy hour drinks at the outside bar. I won't say we talked a lot or loudly, but everyone not part of our group moved to the opposite side of the pool, early on. No one fell in, that I saw. Only one illegal alien infiltrated our group, wearing a sombrero. After cocktails, we scattered to various restaurants for dinner in small groups. Some visited La Margarita Restaurant in the nearby Mexican Market Square, some went to bars and restaurants along the River Walk, and others stayed in the nice hotel restaurant.
We gathered in a private room Friday morning, the 11th, for a great breakfast. Nate Pulliam welcomed the troops, recognized the three other former commanders attending, and also recognized the presence of one (of three) of our very own two-stars from A Troop, Tim Wright. (By the way, seven general officers have come from the 3/17 Squadron. Of these, four are from A Troop, plus an ambassador.) Then we got to meet, for the first time for most of us, Joe Galloway, the world-famous war correspondent, who joined us for breakfast. Barry Pepper played Joe in the movie We Were Soldiers. Joe agreed to sign books, DVDs, and papers in the lobby that afternoon. Nate also presented some mementos to Jacqui Bosworth, the hotel sales manager, for all her extra help in preparing the reunion.
John "Waldo" Pepper, our president, next presided over a Silver Spur business meeting, which was a model for efficiency and brevity. He and Bill McCalister, treasurer, quickly were railroaded into another two-year term in a sort-of election process. (Gary Swartz also was nominated as president, but you got to be kidding.) Ed Roffe volunteered to serve as our Spur chaplain and he was enthusiastically elected. Chuck Oualline said he would act as reunion committee chairman if it were understood that someone in the meeting city must shoulder most of the work. Bill Smith was placed on the reunion committee with Chuck and Waldo. Charles Stutzman was nominated and elected as Membership Committee chairman. He has been invaluable in finding lost Silver Spurs. We discussed possibilities of a meeting place two years from now, but no decision must be made for about a year. The only mentioned places I remember were San Antonio, again, Orlando, and Savannah. (There may have been more but my head hurt from the night before.) We also discussed which months are better for meetings.
We broke about 1100 and people scattered to various attractions in the city before meeting that night for our banquet and ceremony. Many rode the river barges as an excellent way to see all of the River Walk, while others went shopping in the Mexican Market Square. Our hospitality suite continued to rock as the bathtub full of ice was continuously replenished with beer. Joe Galloway graciously signed things for us in the hotel lobby for almost two hours that afternoon.
We met again at 1700 on Friday the 11th for cocktails in our private banquet room at the hotel. A small Missing Man Table greeted Spurs as they entered. (Bear Young has posted the symbolism and meanings of the Table on our website below.) As with all our events, the U.S. flag, Texas flag, and our guidon were prominently posted. (Yes, yes, I know, but when you have a reunion in your state, you can post your flag.) At least one reporter gathered with us to cover the keynote speaker, Joe Galloway, and his address. Any press coverage will be provided to Bear for posting.
Only one problem surfaced at the start of cocktails - a major disturbance was created by someone called Country Joe and the Fish. However, Chuck, Nate, and other levelheaded seniors soon had the disturbance under control and dinner continued.
Assembly was sounded and Bill McCalister gave the invocation, and then led us in the Pledge of Allegiance. A guest singer from Bill's church, John Fosdick, sang two moving songs, which were appropriate to our proceedings. Our master of ceremonies, former Spur commander Bob Witcher, welcomed all and gave a moving explanation of the Missing Man Table, during which he honored those we have lost since we last met: Bill Barber, Jerry Samuels, Fred Kimel, and Kurt Rhodehamel. We toasted all of them. Bob also recounted how Kurt calmly flew himself to a hospital after our enemies had blown off his fingers with bullets through the collective.
A great three-choice dinner was served right on time. Chuck Oualline introduced Joe Galloway, whom he met in Vietnam in 1965 before the famous Ia Drang battle, and Joe addressed us with a moving speech. He told us and emphasized what we already know - that we are duty-bound to remember and honor our fallen brothers. We proceeded to do just that with a moving memorial ceremony, during which the names of our departed were read during a DVD presentation. We included the four KIAs suffered by the present-day Silver Spurs during their previous tour in Iraq. (They have suffered no KIAs during their present tour, and are due home in July 2008.) The ceremony concluded with the playing of Taps with the troop at present arms.
Another group breakfast was enjoyed on Saturday, 12 April. Chuck Oualline gave a capsule summary of the meaning of the Texas Revolution in 1836, as a prelude to the group's visit to the Alamo. After breakfast, we bussed the short distance to the scene of the famous battle. Before we heard the guide's explanations or entered the chapel, group photos were made with the old mission in the background, all arranged by Bill McCalister. Bill also arranged a private lecture by an Alamo guide, who gave a stirring account of events leading up to and causing the fall of the Alamo on March 6, 1836. Then we were free to enter the Alamo chapel and the Long Barrack, which also contains a museum with artifacts of the battle.
After our tour, Bill McCalister and his photographer led us across the street and down an alley to a River Walk bridge, upon which a photograph of our entire group was made. (You will be told how to obtain these photos, soon.) After that, we were free to have lunch or see more sights or return to the hotel on our bus. Many chose to have lunch in the famous Buckhorn Saloon on Houston Street, only two blocks away. Perhaps a beer or two were consumed.
At 1600 the busses promptly departed for Shady Oaks Ranch, an outdoor entertainment venue in the country about a 40-minute flight away. Normally. Due to failure to fully recon the route, we were treated to some of the same scenery three times. (Wasn't my fault - blasted bus drivers changed the route at the last minute.) Everyone forgot this as we arrived - as the first foot hit the ground, a group of Mariachis struck up their little band and surprised the Silver Spurs as they deplaned. Brass blared and guitars strummed (or whatever guitars do) and you would have thought we were in Mexico. I think the Spurs loved the music. We strolled up to the ranch house and the Mariachis followed and continued to serenade for another hour. They were magnificent.
The troopers were treated to a Texas barbecue and everything that goes with it and our own bar. We had the spacious ranch and facilities all to ourselves. Some dined outside under the trees, some on the deck, and some inside the large meeting room. Mostly, we caught up on all our talking and visiting this last night. Eventually, we boarded the busses with drinks in hand, not wanting this night or this reunion to end.
And it did not, for some who did not have early flights. This time, the busses went directly to the hotel. Enroute, we took the mike away from the driver on my bus and entertained the captive audience with some clean jokes, mainly about lawyers. Some jokes could not be remembered, unfortunately.
Upon arrival at the hotel, we threatened the bartender (almost like the old days) and he kept the bar open 2 ½ hours past closing time (honest!) and we had more of a great time. Not sure other hotel guests did. Frank Irvin informed us that the Alamo guide had lied - that the battle didn't go down like that. Frank proceeded to tell us how the Alamo walls REALLY were breached and it was quite entertaining. Barry Toll, a LRRP from the 4th Infantry Division, made the mistake of visiting the bar, and we adopted him into A Troop that night.
Most of us pulled pitch on Sunday, 13 April 2008. It was great to have renewed old friendships, which were forged under fire when we all depended on each other for so much. For real. It also was great to meet some Silver Spurs and their ladies for the first time - those who had served in different years. It is sad to think that all of us might not be around for the next reunion in 2010. I pray it is not so. But reality and age tell me that it is likely. Each time we meet could be our last. So, don't blow off the next reunion. Don't put off attendance until the one after that. Be there. For each other. And for loads of fun, just like old times.
Meanwhile, I ask all of you to pray that all of our young Silver Spurs come home safely from this tour in Iraq, and that they be with us at the next gathering. Scouts out!
==============================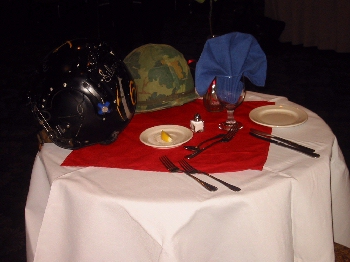 Missing Man Table
Spur Reunion, 2008
Pam Young photo
Missing Man Table - A Tribute
Read by Bob Witcher at our banquet on Friday night, 11 Apr 08
The table - set for one - is small - symbolizing the loneliness we feel without them.

The tablecloth is white - symbolizing the purity of their intentions and willingness to respond to their country's call to arms.

The single rose in the vase reminds us of the families and loved ones of our comrades-in-arms, who kept the faith awaiting their return, and are forever left behind.

The red ribbon, tied so prominently on the vase, is reminiscent of the red ribbon worn by many who bear witness to their unyielding determination to account for every one of our missing.

A slice of lemon is on the bread plate to remind us of their bitter fate.

There is salt upon the bread plate also, symbolic of the river of tears shed by families and loved ones.

The glass is inverted - they cannot toast with us this night.

The chair is empty - they are not here. Our lives are incomplete because they are not here to sit with us tonight. They were there for us - we are still here for them.

The steel helmet and the flight helmet on the table represent four of our brothers we have lost since we last met: Bill Barber, Jerry Samuels, Fred Kimel, and Kurt Rhodehamel. This flight helmet was painted by Jerry Samuels.

In honoring them - each of them - all of them - we stand silently and face their table - the table where they should be sitting with us tonight. We stand silently in their absence.

Please raise your glass in a toast. To the Missing Man. To Bill Barber, Jerry Samuels, Fred Kimel, and Kurt Rhodehamel; and to all of the Silver Spur war dead, and all of America's; to all prisoners of war, and those missing; and to success of our efforts to account for all of them.

We flew with you and called you Comrade. We will never forget your ultimate sacrifice.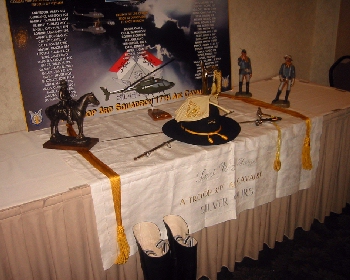 Lest We Forget
==============================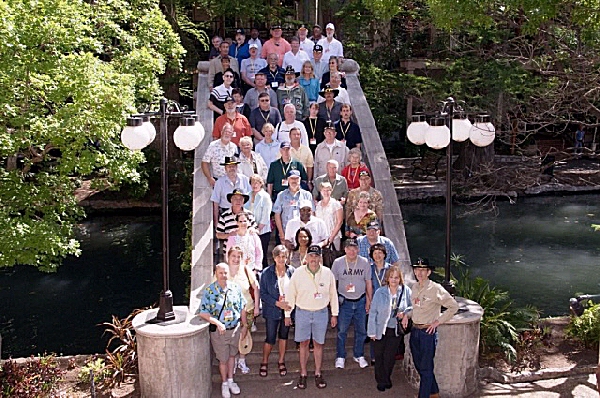 Spur 2008 Reunion group picture at the Riverwalk in San Antonio
Joe Galloway, the famous war correspondent played by Barry Pepper in the movie "We Were Soldiers," was our keynote speaker at the banquet/memorial service Friday night at our 2008 Spur reunion in San Antonio.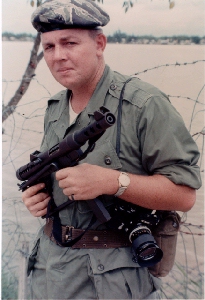 Joe Galloway in summer 1965 with Marines in Danang RVN
Photo courtesy of Joe Galloway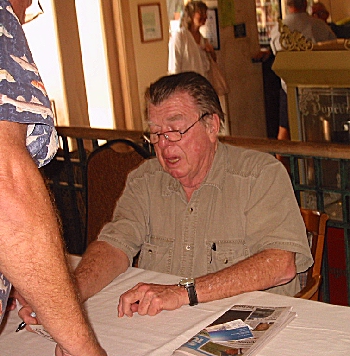 Joe Galloway signing books for Spurs at our 2008 reunion
Pam Young photo
==============================
Spur Reunion Contacts:
John "Waldo" Pepper - Spur President

Bill McCalister - Silver Spur 24 - Spur Treasurer

Chuck Oualline - Silver Spur 3 - Reunion Committee Chair

Ed Roffe - Chaplain

Bill Smith - Silver Spur 18

Charles Stutzman - Silver Spur 13 - Membership Committee Chair - Please check in with Charles to be included on our Spur roster!