The Recovery of 1Lt. Thomas W. Knuckey & Sgt. Philip C. Taylor
© 2002 - The Silver Spurs

POC: Roger "Bear" Young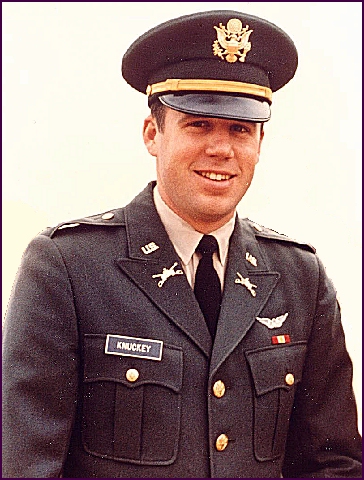 1Lt. Thomas W. Knuckey
Courtesy of Pamela Cole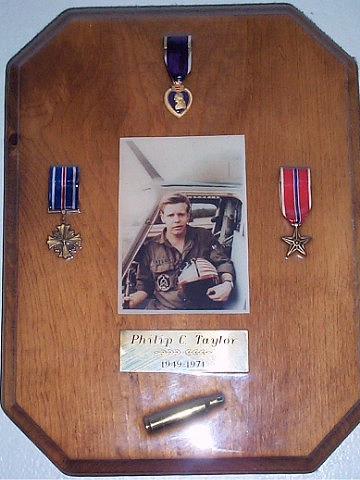 Sgt. Philip C. Taylor
Courtesy of the Taylor family
Preface:
My sincere thanks to Chris Taylor, Sgt. Phil Taylor's brother, for copies of the Joint Task Force Full Accounting [JTF-FA] reports and pictures provided to the Taylor family regarding the events which led to the recovery of the remains of fellow Spurs, 1Lt. Knuckey and Sgt. Taylor inside Cambodia.
It is no secret that at times I have been critical of our government's policy regarding those "last known alive" and live-sighting reports in the POW/MIA issue. That being said, I am personally very supportive of the extraordinary efforts of the teams from JTF-FA to recover the remains of our fallen comrades, in a very harsh environment while dealing with unexploded ordinance throughout Southeast Asia. I salute their personal efforts and dedication. Below is just one such case.
All should know that the JTF-FA report is very extensive, including the eye-witness testimony taken from Spurs Cpt. Poage, Sgt. Shifflett, WO1 Seelhammer, WO1 Gibson, SP4 Sutherland, & WO1 Mustin on 11 June 71, at Quan Loi, Vietnam regarding the loss of 1Lt. Thomas William Knuckey and Sgt. Philip Charles Taylor "reported missing in action at 1545 hours, 27 May 1971, near Snoul Cambodia." Their testimony and the grid coordinates recorded certainly helped JTF-FA locate the isolated crash site over 31 years later.
On 16 Oct 92, JTF-FA and a team from the Cambodian government first discovered the crash site of Knuckey & Taylor as reported below. Their combined efforts would culminate in the proper burial of 1Lt Knuckey and Sgt. Taylor with full military honors at Arlington National Cemetery in 1993.
Portions transcribed from the actual JTF-FA report are indented and in caps.
Roger "Bear" Young
Spur scout crew chief & webmaster
======================================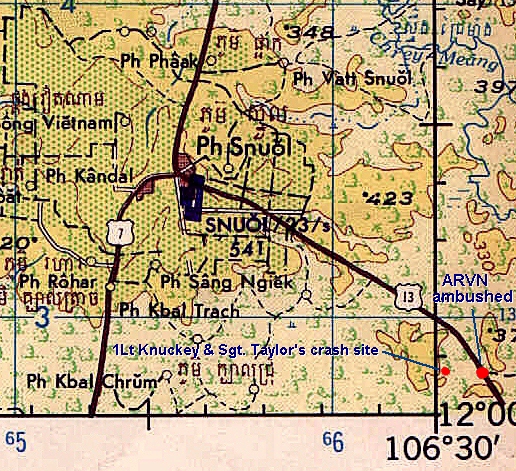 © Jim Henthorn's Vietnam Vet Page.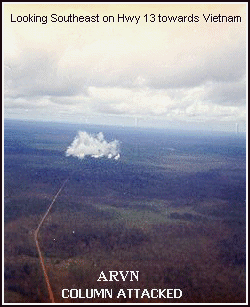 Silver Spur Dan Sutherland photo
ON 16 Oct 92, A JOINT US/CAMBODIAN MIA/POW INVESTIGATION ELEMENT (IE) INVESTIGATED AND SURVEYED CASE 1749. [Knuckey,Taylor]

LTG NOUN SARETH, VICE MINISTER OF NATIONAL SECURITY, LED THE CAMBODIA TEAM.

AT XU66322889 [corrected GPS coordinate], IRT LOCATED NUMEROUS PIECES OF AIRCRAFT WRECKAGE INCLUDING LARGE ENGINE PARTS, SMALL PIECES OF FUSELAGE, AND NUMEROUS PIECES OF CERAMIC ARMOR. INITIAL FIELD ANALYSIS OF THE WRECKAGE INDICATED THAT THE WRECKAGE WAS THAT OF AN OH-58 AIRCRAFT. CONTINUED SEARCHES RESULTED IN RECOVERY OF WHAT WRECKAGE ANALYST BELIEVES TO BE PORTIONS OF AT LEAST ONE AVIATORS HELMET. THE SITE SHOWED EVIDENCE OF BURNING. BASED ON FIELD ANALYSIS OF WRECKAGE AND CRASH SITE LOCATION, IRT DETERMINED SITE TO BE THAT OF CASE 1749....
After the initial search, the IE team departed the area after making arrangements to provide security for the crash site.
3. DETAILS OF SURVEY:

B. DESCRIPTION OF PROJECT AREA: THE GENERAL PROJECT AREA IS LOCATED NORTH EAST OF ROUTE 13 AT A DISTANCE OF 2KM. LIGHT VEGETATION CONSISTING OF SMALL TREES, SCRUB AND GRASS, THROUGHOUT THE AREA. THE CRASH SITE IS SEMI OVAL IN SHAPE WITH VERY LITTLE VEGETATION, APPROXIMATELY 18 METERS IN DIAMETER. AN EXAMINATION OF SOIL PROFILE THROUGHOUT THE PROJECT AREA SHOWED THAT THE SURFACE WAS WET AND MUDDY, WITH WATER IN SOME PLACES OF ABOUT LOCM...

6. RECOMMENDED FUTURE ACTIONS: SITE SHOULD BE EXCAVATED IN THE DRY SEASON, NOV-APR TIME FRAME. ARRANGE FOR SOC PERSONNEL TO CLEAR AN LZ WITHIN CLOSE PROXIMITY TO CRASH LOCATION FOR LOGISTICAL SUPPORT...

9. ANALYST COMMENTS: REASONABLY CERTAIN CRASH SITE ASSOCIATED WITH CASE 1749 HAS BEEN LOCATED. SITE COULD NOT BE RECOVERED AT THIS TIME DUE TO EXTREME WETNESS IN AREA. SITE HAD NOT BEEN DISTURBED FOR QUITE SOME TIME...
On 3 February the team returned to excavate the site:
A. DETAILS OF RECOVERY OPERATION: ... (2) ON 3 FEB 93 RE DEPARTED POCHENTONG 0747 (G) ARRIVED SNUOL AT 0848 (G). FOLLOWING SECURITY COORDINATION, TEAM MOVED TO SITE AT 48PXU6632728896. SURFACE SEARCH OF THE AREA YIELDED SEVERAL PIECES OF AIRCRAFT WRECKAGE WHICH FIELD ANALYSIS INDICATED WERE ASSOCIATED WITH AN OH58A AIRCRAFT. PREPARATIONS FOR EXCAVATION BEGAN IMMEDIATELY. EOD TECHNICIAN EXAMINED THE SITE FOR SIGNS OF ORDINANCE HAZARDS AND CLEARED THE SITE FOR EXCAVATION. CILHI ESTABLISHED BOUNDARIES AND PREPARED GRID. ONE TWO METER BY TWO METER GRID SQUARE WAS EXCAVATED TO 50 CENTIMETERS, AND FIVE TWO METER BY TWO METER GRID SQUARES WERE EXCAVATED TO AN AVERAGE DEPETH OF APPROXIMATELY 25 CENTIMETERS. SEVERAL BONE FRAGMENTS AND PARTIAL TEETH WERE RECOVERED, AS WELL AS SEVERAL AIRCRAFT PARTS AND POSSIBLE PERSONAL EFFECTS. TEAM DEPARTED SITE AT 1620 (G) AND ARRIVED POCHENTON 1710 (G).

(3) ON 4 FEB 93, RE DEPARTED POCHENTON 0742 (G) AND ARRIVED SNUOL 0846 (G) FOLLOWING COORDINATION WITH SECURITY PERSONNEL, RE DEPARTED SNUOL 0910 (G) AND ARRIVED SITE AT 0926 (G) AND BEGAN EXCAVATION. FOURTEEN (14) TWO METER BY TWO METER GRID SQUARES WERE EXCAVATED, TO AN AVERAGE DEPTH OF 25 CENTIMETERS. OVER ONE HUNDRED SMALL BONE AND TOOTH FRAGMENTS WERE RECOVERED ALONG WITH SEVERAL AIRCRAFT PARTS AND POSSIBLE PERSONAL EFFECTS. RE DEPARTED SITE 1615 (G) ARRIVING POCHENTONG 1706 (G).

(4) ON 5 FEB 93, RE DEPARTED POCHENTONG 0742 (G) AND ARRIVED SITE AT 0833 (G) AND CONTINUED EXCAVATION. RE EXCAVATED SIX TWO METER BY TWO METER SQUARES AND THREE FOUR METER BY FOUR METER SQUARES. FEW BONE AND TOOTH FRAGMENTS RECOVERED. RE CLOSED SITE FOR THE DAY AND DEPARTED THE AREA AT 1600 (G). RE ARRIVED POCHENTONG 1649 (G).

(5) ON 6 FEB 93, RE DEPARTED POCHENTONG 0748 (G) AND ARRIVED SITE 0827 (G) TO CONTINUE EXCAVATION. RE EXCAVATED SEVEN, TWO METER BY FOUR METER SECTIONS, BOUNDING THE SITE WITH NEGATIVE RESULTS. SITE WAS CLOSED PERMANENTLY AT 1225 (G). RE DEPARTED SITE AT 1500 (G) AND ARRIVED POCHENTONG 1548 (G).

B. METHODOLOGY OF RECOVERY:
(1) AFTER DETERMINING THE APPROXIMATE LOCATION OF THE MAIN WRECKAGE CONCENTRATION, A SKIRMISH LINE OF INDIVIDUALS SPACED APPROXIMATELY 5 METERS APART WAS FORMED APPROXIMATELY 50 METERS TO THE SOUTH. THE SKIRMISH LINE MOVED IN A NORTHERLY DIRECTION FLAGGING WRECKAGE AND CLUSTERS OF WRECKAGE WITH SURVEY FLAGS. FLAGGING THE SITE IN THIS MANNER REVEALED A TIGHTLY CLUSTERED WRECKAGE DISTRIBUTION MEASURING 26-X-26 METERS. WITHIN THIS CLUSTER WAS A DENSE CORE OF WRECKAGE APPROXIMATELY 6-X-6 METERS. AN ISOLATED FRAGMENT OF ENGINE WRECKAGE WAS FOUND APPROXIMATELY 90 METERS SOUTH OF THE MAIN CLUSTER WHILE THE MAIN ROTOR SHAFT WAS DISCOVERED APPROXIMATELY 115 METERS NORTH OF THE DATUM.
The last sentence above is consistent with eye-witness testimony that the aircraft exploded when hit by intense enemy ground fire while making a low-level pass at approximately 60-knots. Eye-witness accounts also reported that the aircraft exploded a second time on impact.
Some of the parts recovered from the aircraft included data plates with serial numbers from the swashplate and support assembly, blades, the engine's fuel control and the fuselage. Pieces of ceramic armor, two lap belt buckles, shoulder harness buckles and small parts of plexiglass were just some of the many items identified at the excavation site.
JTF-FA also provided a very detailed report on remains recovered which will remain confidential. Their investigation also indicates that there had been an "intense fire" at the crash site, again consistent with Spur eye-witness testimony at the time of the crash. The report also makes mention of that fact:
10 B. WRECKAGE ANALYSIS COMMENTS: WRECKAGE RECOVERED FROM THE SITE WAS ANALYZED USING TECHNICAL MANUAL 55-1520-228-34P, HELICOPTER, OBSERVATION, OH58 (BELL). CROSS REFERENCING PART NUMBERS TO THE TECHNICAL MANUAL VERIFIED THE CRASH SITE AS THAT OF AN OH58 HELICOPTER. LOCATION, GRID PLOTTING, AND ANALYSIS OF ALL AVAILABLE WRECKAGE AND CREW-RELATED FLYING EQUIPMENT IS CONSISTENT WITH FINDINGS OF CILHI TECHNICIANS AND TESTIMONY OF DOCUMENTED PERSONNEL OF INCIDENT.
After carefully reviewing the documentation provided by JTF-FA to the Taylor family, and discussing the report and viewing the pictures that Chris Taylor scanned and sent us (below), we are both convinced that the JTF-FA team did indeed, discover the crash site of 1Lt. Knuckey & Sgt. Taylor and did an outstanding job to recover their remains for proper burial. Their remains were officially identified by CILHI in Aug 93.
1Lt. Knuckey and Sgt. Taylor were buried together at Arlington National Cemetery in '93 with full military honors. The Spurs and the Taylor family are grateful to all that helped to bring them "home" - a promise made, a promise fulfilled.....
Roger "Bear" Young
A Troop, 3/17th Air Cav Scout Crew Chief -- '69-'70
Spur webmaster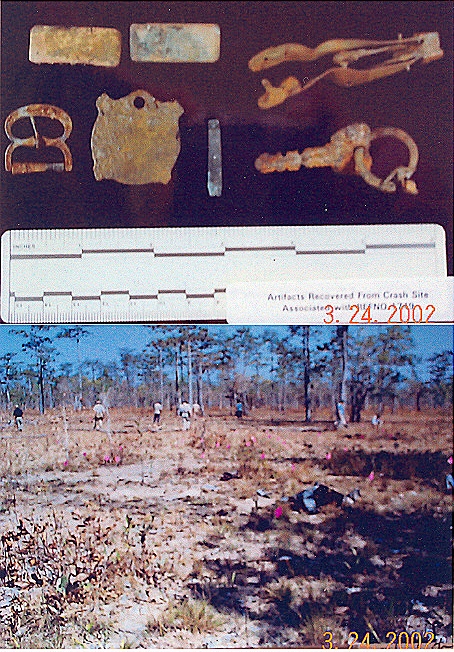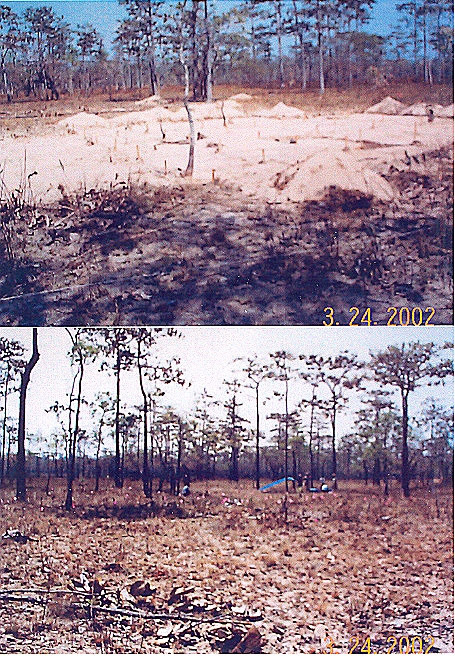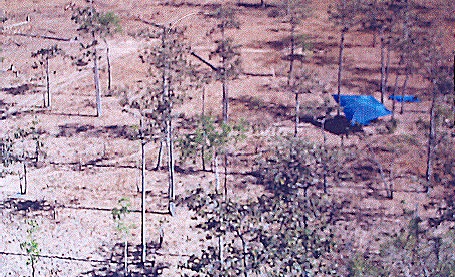 JTF-FA photos courtesy of Chris Taylor
Dates shown are when he scanned photos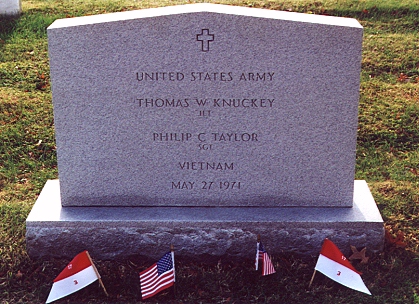 Arlington National Cemetery
Courtesy of Pam Young
Transcript of GO 6254 dtd 9 Sept 71 submitted by Chris Taylor, for addition to the official 1971 Spur record. Copy of original award now on file.
Department of the Army
Headquarters, 1st Aviation Brigade
APO San Francisco 96384
General Orders
Number 6254
9 September 1971
"NGUY HIEM"
AWARD OF THE DISTRINGUISHED FLYING CROSS
(POSTHUMOUS)
TC 439. The following AWARD is announced.
TAYLOR, PHILIP C. xxx-xx-xxxx SERGEANT Troop A, 3rd Armored Squadron, 17th Air Cavalry, APO 96289
Awarded: Distinguished Flying Cross (Posthumously)
Dates of service: 27 May 1971
Theater: Republic of Vietnam
Authority: By direction of the President under the provisions of the Act of Congress, approved 2 July 1926, AR 672-5-1 and USARV Supplement 1 to AR 672-5-1 dated 10 August 1970.
Reason:
For heroism while participating in aerial flight evidenced by voluntary actions above and beyond the call of duty: Sergeant Taylor distinguished himself by exceptionally valorous actions while serving as an aerial observer on a scout helicopter, engaged in a visual reconnaissance mission southeast of Snoul. Sergeant Taylor and his pilot discovered several enemy soldiers and a machinegun emplacement. When the enemy opened fire on the small aircraft, Sergeant Taylor returned fire with his machinegun, enabling his pilot to evade the fire and call in a circling gunship. After the assault helicopter had fired rockets into the hostile position, Sergeant Taylor and the pilot courageously flew back over the contact area to assess the rocket damage and secure more information on the size and location of the hositle forces. Suddenly, the small aircraft was caught in a crossfire, burst into flames, and exploded on impact with the ground. Sergeant Taylor's heroic actions and complete devotion to duty as an observer were in keeping with the highest traditions of the military service and reflect great credit upon himself, his unit and the United States Army.
FOR THE COMMANDER:
R. JOE ROGERS
Colonel, GS
Chief of Staff
OFFICIAL:
DAVID G. MATHIS
CPT, AGC
Asst. AG
Spur tribute to Knuckey & Taylor