2006 Silver Spur Reunion Keynote Address
by Roger "Bear" Young
Fellow Troopers & family members – it is a personal dream-come-true for me to see you all here at this 2006 Silver Spur reunion!
When Bill Barber first approached me to have the honor to address you, he asked me to discuss how the Silver Spur website came into being. 
For me it started 36 years ago when I had the honor and privilege to serve with the Silver Spurs as a crew chief and line chief with the Scout platoon from December 1969 thru November 1970.   I learned of the fine traditions and standards set by the outstanding early Spurs who paved the way from Ft. Knox to Vietnam.  The standards set by you served all of us that followed very well.
It was with the Spurs where I met some of the finest men in our great nation.  These young men came from all walks of life and all areas of the country who were not only devoted to the mission, but to one another.  Young men who taught me the meaning of leadership, team work, trust, duty and honor.  Young men who placed our very lives in each others hands.
The difficult daily missions accomplished by the Silver Spurs were truly a combined effort of those of us not only assigned to the troop, but also the 575th Maintenance and 812th Signal Detachments – including civilian contractors. Those in the 3/17th had few days to rest or reflect as the mission pace was practically non-stop.   Together we worked almost seamlessly to accomplish the assigned missions and keep the choppers flying often working long into the night and early morning hours.  Combined, we ALL made the Silver Spurs a truly independent combat unit.
The Silver Spurs impacted my life in no small measure.  I would learn over the years that there would never be another job as important as the one I had with the Spurs.  For those Spurs lost, we had promised that they would NOT be forgotten.  As the years passed some of the names faded from my memory, but not those who had been my platoon leaders, who had worked closely with me, and especially those comrades lost in action.
For me there was a reawakening in 1991 when our nation once again found itself at war in a place far away in the Persian Gulf.  I feared for our troops who were on a mission to free Kuwait.  It was during that time when my thoughts once again turned closely to those I served with in Vietnam and those we had lost.
In December 1992 my late wife Kathie, who I had married shortly after returning home from Vietnam, purchased our first computer.  I needed a word processor so I could start putting onto paper my memories of Vietnam for my family.  Earlier attempts to do so with a typewriter proved to be extremely frustrating as editing was impossible, so Kathie purchased a computer for me.  And Kath, my loving wife who understood me so well, hoped the computer might also lead to finding fellow Spurs, rekindle friendships, and bring me some measure of comfort and healing.
Shortly after the arrival of the computer I located the Prodigy software.  After becoming a member of Prodigy I soon discovered the Veterans Bulletin Board where veterans from all wars exchanged information and initiated searches for fellow veterans.
Taking the lead from others, I posted the occasional message that I was looking for fellow troopers who had served with the 3/17th Air Cav and I became involved in vet issues.  Those fellow veterans and friends made on Prodigy became my personal support group when my family suddenly and unexpectedly lost my beloved Kathie in October 1994.  The good Lord truly works in mysterious ways…
It was not until late 1996 after I had switched to AOL where Pam and I began to host our local veteran's newsletter, that fellow Spur, John Connor found one of my messages looking for fellow Spurs and contacted me.  He was the first Spur I made contact with since the war.  John had served as the Scout Platoon Sergeant just prior to my tour and filled me in on some of the details in the Spur history.
John also informed me that there had been several 3/17th Air Cav squadron reunions initiated by the Blue Tigers of D Troop, and invited Pam and me to my first reunion located in Dayton, Ohio in 1997.  John was a wonderful host for that reunion and Pam and I truly enjoyed exploring the Air Force Museum located at nearby Wright-Patterson Air Force Base. 
However, John and I were the only Spurs in attendance.  It was at that reunion that I decided with the help of Pam and the encouragement of  John Connor, to start a web page for the Silver Spurs.  The vast amount of information we have posted on A Troop history from 1967 thru 1969 was provided by information that John Connor had collected and shared with me at that reunion.  My wife, Pam, helped me to transcribe that historical record and the information I had requested from the Army Historical Records Branch in the 80s for the Spur site and those became our initial posts.  With help from VHPA, we also started on our greatest responsibility posting the 3/17th Squadron Honor Roll to honor our fallen brothers in Vietnam and Cambodia.  That Honor Roll is truly a combined effort of the 3/17th Squadron members and we still occasionally learn of another fallen trooper and update the Honor Roll. 
I'm proud of the fact that the Silver Spur site was one of the very first military unit pages on the internet and the first for our squadron, long before Military.com or the History Channel. Although we are a small band of brothers compared to many other units, we once again led the way!! 
Shortly after the inception of the Spur website we began to make contact with fellow Spurs and additional troopers from the 3/17th.  Fellow Spurs also helped me answer my own haunting questions, such as the real name of "Moose" who was Jerry Gillett who perished with William Wallace on 4 June 1970.
In 1998, my loving wife Pam who is also a military veteran who served with the Navy with CINCPAC from 1970-1974 and who also worked on Operation Homecoming – the operation which repatriated some of our POWs from the Vietnam war - took me to the Wall in D.C. to pay my respects to Moose, Wallace, and my other fellow Spurs who had made the ultimate sacrifice.  That first visit to the Wall in the early morning hours was not easy for me personally, but a mission which I felt had to be made.  But one I could not have made without the help of Pam!
In 2000 Pam and I decided to host a Spur mini-reunion in D.C.   It was on Veterans Day, 11 November 2000, that sixteen 3/17th Troopers from HHT, A, B & Delta Troops and family members of fallen Spur Sgt. Phil Taylor laid a wreath at the Wall which included all the names of our fallen 3/17th troopers known to us at that time.
At 0930 all of us lined up to wait our turn to place our wreath.  Not long after assembling, the National Parks Service passed the word that only four from each unit would be allowed to actually place the wreath at the Wall.  This was upsetting to us, but a solution was found from our past.
In the finest tradition of the Cav, we lined up and decided that no Parks Department official was going to prevent us - as a group - from placing OUR wreath at OUR Wall.  When the 3/17th was called, all of us proudly marched to the Wall.  We had kept our promise that our fallen troopers would NOT be forgotten and we did it together!
Later, together with Taylor family members and the fiancé of Lt. Knuckey, we paid our respects at the joint gravesite of Sgt. Phil Taylor and Lt. Thomas Knuckey who were KIA-BNR inside Cambodia on 27 May 71, several months after my return from Vietnam.  In 1993 their remains were located, identified and properly buried together on U.S. soil with full military honors at Arlington National Cemetery.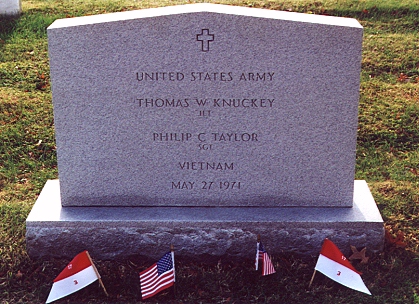 Courtesy of Pam Young
Since that time thanks to countless individual contributions from fellow Spurs, the information on the Silver Spur site has grown in scope and detail.  We have individual tributes to fallen comrades, historical information on the troop throughout its years of deployment, Valorous Unit Awards, works of historical research, individual stories, poems and reflections, war correspondent Charlie Black's reports on the Spurs, support links to VA on PTSD, counseling services and type-II diabetes, to name but a few.
And thanks to other 3/17th sites such as Delta Troop's site hosted by Bill Nevius, we have additional historical information of our connection with II Field Force, the 1st Cav and much more, including articles published on the troop ship Walker which carried the 3/17th to Vietnam.
We also have the history of some of our more notable aircraft such as Gary Swartz' 962 which we will visit at the Army Aviation Museum here at Ft. Rucker where many of us began our careers in Army aviation over 35 years ago!
We have since learned that several of our aircraft are still flying - one OH-6 with the Gainesville, Florida Police Department, an OH-58 that also served in the Persian Gulf War now owned by John Peacocke of Houston Texas. And one of our early UH-1C gunships is the focal point of a Vietnam Veterans Memorial honoring those who fell from Long Beach, California.
But not all our efforts revolve around the past!  Our mission still continues! Since 2000, Bill Barber has been working hard to locate fellow troopers and organize our Troop reunions!  Some of us have helped to host the Moving Wall for our brothers and those families who cannot travel to D.C.  Others have worked at Stand-downs to help homeless veterans and have participated in Honor Guards to provide Military honors for fellow veterans in our own communities. 
But the 3/17th is never far from our hearts and the 3-17th once again has found itself in harms way.  Thanks to Charlie Helms and "Trapper" the Silver Spurs led the way when the current troopers were deployed to Afghanistan and Iraq.  3/17th Cav Troopers and civilian support groups who were contacted flooded the young troopers with CARE packages from across the nation.  Trapper and his wife Sue have hosted picnics for the young troopers serving at Ft. Drum, New York and Christmas parties for their children during the Holiday Season.
Trapper represented us all at Ft. Drum when he presented a Cav Stetson to PFC Kenny Adams who was badly wounded in Afghanistan while serving with Apache Troop.  Other 3/17th troopers quietly helped in many ways while Kenny and his wife Katie transitioned back into civilian life.  Those serving our nation today are always in our thoughts and prayers.  
Today, thanks to the combined efforts of Bill Barber, Joe Coates, Dennis Leffingwell, Chuck Oualline, John "Waldo" Pepper and others, we are all once again gathered together at this reunion.  Major McNamara, who was Spur 6 while A Troop served in Iraq, has been invaluable with the arrangements at Ft. Rucker.  I personally want to thank all of you for your hard work and personal dedication to hold this Spur reunion.  We are all in their debt! 
Today, working together – AS A TEAM LIKE WE DID IN VIETNAM – we have come a very long way since John Connor and I first met at the Squadron reunion in 1997.  I, like all of you, am very proud to be a Silver Spur, I am proud to be your webmaster, and my personal dream has come true seeing us – many with our loving families - reunited today! 
In closing, in a few days we will once again go our separate ways across this great nation, and, for many of us, we will feel emotions much like when we were separated from the troop and came home from Vietnam.
I urge you to remain in close contact with one another in the coming weeks and months.  Feelings after a reunion can be extremely powerful as we reflect on this gathering, our days in combat, and of brothers lost but never forgotten.  We will need each other and our loving families to move forward!  We are truly a band of brothers!
God Bless and thank you!
[SALUTE]