Silver Spur Membership Committee Corner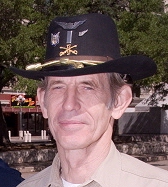 Spur Membership Committee Chair, Charles Stutzman
Spur 29 & 13
2008 Spur Reunion, San Antonio, TX.

Preface: A Spur Membership Committee was formed at the 2008 Spur Reunion to maintain our Spur rosters and with hopes of locating additional Spurs. Charles Stutzman, our Spur Membership Committee Chair, will be posting messages here in the future.
Roger "Bear" Young
Spur webmaster

Update: 19 FEB 10:
02/20/10

There are presently 976 names posted. (The 976 tally excludes about 10 names which are a duplication giving 2 options, one of which HOPEFULLY someone will recognize which option is the correct one and make us aware of it)
We only have email addresses on 273

Your mission is to help locate those 703 we do Not have addresses on!

02/18/10
103 NEW names have been added, the majority of which were from 1971.

There are 137 names listed on a separate list positioned BELOW the main Roster's 976 names Titled
LAI KHE 1971
These names came directly from the 1971 Lai Khe Photo Book
Those names that are NEW to our main list have been intra grated into the Main Roster and are identified in both the Left and Right Margin with a X

A LINK to view the Photo Book is provided on the ROSTER page

Special Recognition goes to Sid Kelly, Paul Clergy, John Briggs, Gary Swartz, Chuck Oualline, Cliff Heatherly, Cliff Conaway, Marvin Swinford, Mike Platner, Al LaGrange, Richard Schwab, and last but not least, Roger Young in their efforts in locating many Silver Spur Troopers!!! If I have missed anyone let me know.

Update: 02 SEP 09:
09/02/09

There are presently 873 names posted

We only have email addresses on 233

Your mission is to help locate those 640 we do Not have addresses on!

09/01/09
5 New names were added, They are indicated In Right Margin with a X

06/02/09
10 New names were added, They are indicated In Right Margin with a X

04/28/09
14 New names were added from the 1970-1971 era
They have not been marked with a special color.

03/17/09
7 New names were Added

03/03/09
72 New names were Added

02/27/09
The Roster had grown to 680 names

12/06/08
We started out with approximately 300 names



Update: 19 MAY 09:
Reference the Roster that is posted
Help is needed to get missing information on the roster. If it is not highlighted in BLUE on the roster, we need ANY info you have, such as:
Last name,
First name,
E-mail Address,
Physical Address complete with ZIP,
Phone Numbers,
Home State,
Section/Platoon,
Duty Assignment,


Update: 27 FEB 09:
New Tool to assist in locating any Missing Troopers. Approximately 680 names that you can view and start sending info that you may have that will help get in contact with those that we do not have info on.

Click on the Link: Spur Roster

16 DEC 08:

Fellow Troopers,

A task at hand is something that all of you can help with. We currently have the names of approximately 300 troopers that served with Alpha Troop, 3rd of the 17th Air Cavalry directly or attached (575th TC, 812th SC, D Troop Blues).

There are many other names of those that are not on our current rosters that we are seeking to include in our search to let them all know about the organization. There are also some names we have currently that we do not have the contact info on

We do have most of the names starting from the beginning up to the first quarter of 1969. The years that we do not have a lot of names are from the last 3 quarters of 1969 thru 1972! We need those of you who are from that era to put your thinking caps on and start making a list of all the names you can recall.

If you would start making a list of all the troopers that you can remember the names of, even if it is just a last name, along with the appropriate year, and send it to the membership committee. Any other information you can remember, such as:


NAME, Last
NAME, First
NAME, Middle or Initial
Home, State
Home, Town
Age, (even if it is approx)
Assignment
Platoon
Section
Duty
MOS
Dates assigned to A Troop
Wife, Name
Sibling, Names
A resource that you may have would be are any ORDERS that you have from when you were assigned to the Troop.

With the help of some in locating several missing Troopers last year, the more info one has to include in the search, the easier it is to locate the missing, hence the request for name of wife, sister, brother.

Send the information to the Membership Committee

Any and all information will be treated securely within the Membership Committee and the Administration of the Silver Spur Organization and will not be shared or distributed to any other organization or individual!

If any information is requested about a Trooper, that Trooper will be contacted by the committee and given the requesters contact info and if they desire to contact the requester, they may.

Once we get a good start on the names we will seek volunteers to help locating the missing. Ways anyone can help is to use some of the available search tools that we will introduce you to and let you assist in contacting them. It always helps to have someone contact those that knew them so they will feel comfortable talking when you call them out of the blue. To hold the expenses down, a lot of folks have cell phones this day and time and most of them have some available FREE time that can be used on week ends and evenings, we just will want to make sure we do not call too late or too early. Those on the East coast could even call later if they were calling to the West coast.


Charles Stutzman - Silver Spur 13
Membership Committee Chair


Since 16 Dec 2008