Silver Spurs

A Troop, 3/17th Air Cav
Troop History February 1970
Redhorse Review Excerpts
The Redhorse Review was a monthly 3/17th Squadron newsletter published in-country. The following excerpts from our squadron newsletter were saved all these years by Bob Bennett, Blue Tiger 20 -- 7/69-7/70.
Bill Nevius, Delta Troop 3/17th webmaster graciously provided us copies for transcription.
Roger Young -- Silver Spur webmaster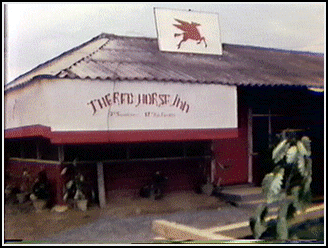 The Redhorse Inn
Courtesy of Spur Scout Tom White

From the February 1970 Edition:
the REDHORSE REVIEW
Volume 1 Number 5
Di An, Vietnam
February 1970

pg 2
REDHORSE REVIEW
Commanding Officer......LTC Gordon T. Carey [New Squadron Commander]
Information Officer.........1LT Charles S. McCulloch
Editor.................................PFC Fredrick L. Glassford
The REDHORSE REVIEW is an authorized monthly publication of the US Army, published by the Information Office, 3d Squadron, 17th Air Cavalry, APO 96289 (telephone: Di An 2281). Newspaper circulation: 400 copies.
Opinions expressed in the REDHORSE REVIEW are not necessarily those of the Department of the Army. The services of the Armed Forces Press Service are used, and others sources as noted.
Contributions to the REDHORSE REVIEW should be sent to the Squadron Information Office NLT the 27th of each month.
=======================
page 1
ALPHA GOES TO THE DELTA
by Warrant Officer Nicholas A. Delmore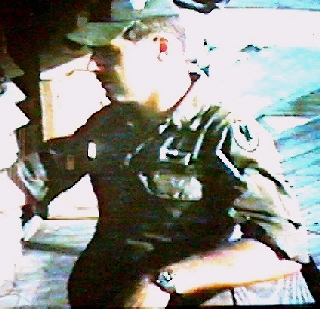 WO Nicholas Delmore -- Spur Scout Pilot
Picture courtesy of William Smith -- Spur 18
Soc Trang -- Four January, Seventy was a momentous day for "A Troop" 3d Sqdn 17th Air Cav for it marked the move "enmasse" from Di An to the temporary home of Soc Trang down in the land of the "Bad Boogaloo" Delta. The move came off, virtually, with no problems whatsoever, despite the near IFR weather conditions that existed. The over-all coordination and success of the operation was attributed to A Troop commander, Major Arthur Devaes III, who led the troop, and the flight leaders of the separate platoons. Scout platoon leader John Estep, lift platoon leader Captain John Earwood, and weapons platoon leader Christopher Pixton maneuvered their respective platoons to a pre-arranged rendezvous point south of Saigon, and conducted a join up with the troop commander who "spurred" them on. One incident that occurred just prior to a refueling stop at Tra Vinh served to initiate A Troop in the ways of the war in the Delta. While in Troop formation at 1500 feet a since derosed Spur 24, (1Lt. Billy Jo McCalister), informed the rest of the troop that they were receiving fire. As brief and inaccurate as it was, it was considered an ominous event by all.
Since the spurs were all new to the installation and the surrounding area it naturally took a period of adjustment for them to become accustomed to such novelties as warm water showers, saltwater showers, and, believe it or not, no water showers. Perhaps the most shocking reality that soon manifested itself was the smell of fresh country air unadulterated by the burning of noxious substances in the morning. Soon thereafter it was discovered that all the latrines were equipped with porcelain receptacles and functional plumbing.
After an initial welcome and briefing by 13th Combat Aviation Battalion Command LTC Billy McRill and his staff, the Silver Spurs were ready to go to work. Since that time A Troop has re-evaluated its assets to meet each mission with the best possible configuration of the aircraft and weapons available. There are strong feelings throughout the troop that this constant reassessment of tactics as a result of experience gained in previous missions "has assured the Spurs' success."
During the short time A Troop has conducted operations in the delta, they have maintained and are maintaining an impressively high number of KBA, structures, and sampans destroyed. Perhaps more important than statistical results of the Spurs operation is the theory behind it. The Spurs are working as a true air cavalry troop is designed to. That is, the Spurs are placed under the operational control of a ground commander. The ground commander can then use the reconnaissance capabilities of the troop as they are required, thereby exploiting any situation rapidly, effectively, and thoroughly. It is to this end that the scouts, guns, and slicks are coordinated as a tightly knit team.
page 2
The problems encountered have been numerous although not insurmountable. 1Lt Mike Carothers, who's handled the maintenance problems of A Troop, has worked both hard and long with his crews to provide outstanding availability despite less than optimum working space, conditions, and supply channels. Dust and sand erosion of bearings, blade surfaces, and other vital moving parts is an ever present problem. High velocity cross-winds have placed increased demands on all of the aviators and there is always the hazard of encountering IFR conditions in the sand and dust.
The move, mission, and problems were new to all and were challenges, but ones which A Troop, 3d Squadron, 17th Air Cavalry has met and will continue to meet with the professionalism and efficiency which are characteristic of their operations. [End]
=======================
page 8
LOGISTIC READINESS AWARDS
Congratulations are in order to all personnel listed below. They executed that extra effort to be recognized by their respective troops for the December Logistical Readiness Awards competition. Each individual will receive a $10.00 check for his outstanding performance.
A Troop
Yates, Charles E. -- SP4 -- Superior Job Performance
Thompson, Charles B. -- PFC -- Soldier of the Month
Hood, Buster T. -- SP4 -- Best Cook
Thorp, William E. -- SP5 -- Best Aircraft Mechanic
Garcia, Jose F. -- SP4 -- Best Supply Clerk
Also, James P. -- SP4 -- Best Driver/Mechanic
=======================
page 9
A CLOSE SHAVE
Di An -- A Troop, 3d Squadron, 17th Air Cavalry. CW2 George Carter of Springfield, Illinois, recently came in contact with a AK-47 round that boomeranged. On January 28, 1970, CW2 George Carter was flying a LOH reconnaissance mission in the U-Minh forest approximately 120 miles south of Saigon when his aircraft came under fire. CW2 Carter received what he described as "a whack on the head with a baseball bat." "My ears were ringing and my vision was blurred so I gave the controls to my observer SGT Craig Farrier to let him fly us out of the area." SGT Farrier of Portland, Oregon, took control and landed the LOH in a secure area where CW2 Carter was medivaced by the command and control helicopter commanded by Major Arthur S. Dervaes III, the commanding officer of A Troop.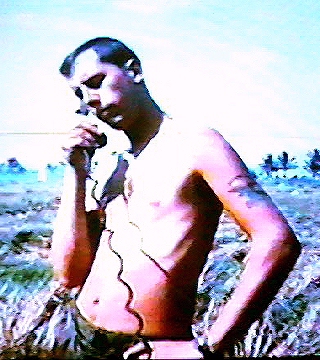 CW2 George Carter
Picture courtesy of William Smith -- Spur 18
CW2 Carter's helmet had been hit by an AK-47 round. The round hit the helmet, and circled completely around his head. Luckily, all CW2 Carter received from this close call was a scar on the back of his head, and a helmet which is no longer serviceable. The "Silver Spurs" of Alpha Troop report that CW2 Carter has been wearing a funny looking hair cut lately, but he is back flying with the scouts.
CW2 Carter's final comment was "You know, there's not a hell of a lot of room inside a helmet for my head and an AK-47 round too." [End]
=======================
page 9.
THE CHOPPER DOC
New procedures were distributed about a month ago on the lubrication of the UH-1 and AH-1G tail rotor hub assembly, they are as follows: The tail rotor will be greased every day and purge greased every 25.
The swash plate assembly on the UH-1 and AH-1 aircraft will be purge greased every 25 hours, to be accomplished in increments of 30 degrees until the entire 360 degrees is completed.
Another item of interest is the new "801" tail rotor hub for your UH-1 or AH-1. The new hub is a much stronger unit, but still the hub must be removed, greased and balanced every 100 hours. The only thing that is not needed is the internal Sonic Ray inspection (to be completed by the General Support Maintenance) which the "701" hub must still have.
The TBO internal on all main rotor transmission and tail rotor transmission on the OH-6A have been increased to 750 hours. All turbines engines installed in U.S. aircraft must be cooled two minutes at flight idle prior to engine shutdown. This is to prevent internal super cooling on critical components thus causing cracking and eventually failure (when you least expect it). [End]
=======================
page 11
SILVER SPUR NEWS
Quarterly Logistical Readiness Award for Motor
Maintenance Goes to A Troop
Alpha troop has been awarded the Logistical Readiness Plaque for maintaining the number one motor pool in the squadron over the past three months. The Silver Spur motor pool has won this award because they have shown a constantly high standard of excellence in both vehicle maintenance and records management.
The Alpha Troop personnel greatly responsible for this achievement are:
SFC John W. Peavler
SP4 Jose Garcia
SP4 Joseph W. Montgomery
PFC James A. Jennings
Alpha troop can be proud of the job being done by these men and all the other personnel who have worked hard over the past three months to establish an outstanding motor maintenance program within their troop.
A TROOP AWARDS FOR JANUARY
ACM - SP5 Robert A. Olsen
ACM 1st OLC - SGT John A. Sinclair
AM - 1LT Fred M. Adams
AM "V" - WO1 Nicholas Delmore
AM "V" - WO1 David F. Tela
AM "V" - Cpt. Clayton E. Marsh
BS - Cpt. Clayton E. Marsh
A TROOP GIVE ARVNS A LIFT
U-Minh Forest -- "Dust Off" is one of those familiar calls to helicopter pilots, yet sometimes there isn't a medivac ship available so anyone in the area answers the call. The was the case for A Troop's Captain John Earwood of Quakertown, Pa. as he commanded the troops lift section.
On January 10, an ARVN patrol had been ambushed in the U-Minh Forest and was pinned down. With three men wounded and in need of immediate attention, Captain Earwood answered the "dust off" from the ARVN'S. While the ARVN'S were still receiving heavy fire Captain Earwood landed his ship in the middle of the fire fight to medivac the wounded. With SP/5 Ronald Frizzel from Roseville Cal., and SP/4 William Thompson of Pine Bluff, Ark. crew chief and door gunner, handling the wounded aboard, the ship was quickly loaded, and within minutes was lifting out of the EZ. The wounded were taken back to Soc Trang where they received treatment for their wounds.
Later, that day after Capt. Earwood had shut down his aircraft to discovered that his ship had taken twelve holes in the engine and tail section of the aircraft. Scratching his head Capt. Earwood said, "Well I'll be damned." [End]
=======================
page 6
T E T
(Taken from MACV Command Information Pamphlet 37-69 December 1969)
WHAT IS TET?
Tet is Vietnam's biggest celebration of the year. It corresponds to America's Christmas, New Years, All Soul's Day and the Fourth of July combined. It is a family reunion, a spring festival, a national holiday and everybody's birthday.
The day events signifies the new year and the beginning of spring. Like that of our Easter, the date for Tet is based on the lunar calendar. It usually occurs in late January or early February. In 1970 Tet is from February 5 thru 7 and begins the Year of the Dog.
For the Vietnamese it is a time of solemnity, gaiety and hope. It is a time to pay homage to ancestors, visit family and friends, observe traditional taboos, and of course to celebrate.
Tet also is the time to correct faults, forget past mistakes, pardon others for their offenses, and pay debts. To owe money during Test is considered bad luck.
This is the time when the Vietnamese people look back on the past. It is a truly comprehensive holiday, and all Vietnamese give it full observance.
ORIGIN OF TET
No Specific date is recorded for the first observance of Tet in Vietnam. Chinese in origin, the holiday symbolizes the beginning of the Oriental new year.
The first observance in Vietnam probably occurred around 200 B.C. during the long domination of Vietnam by the Chinese. The rites that accompany Vietnamese Tet, however, have changed during the ages and now show only a remote resemblance to the original Chinese festival.
LEGENDS OF TET
To appreciate the customs of Tet an understanding of some ancient spirit-world is necessary because Tet is a mixture of religion and mythology, and local variation are found from village to village throughout Vietnam. Tet, like all other Vietnamese religious holidays, is family-oriented.
During the pre-Tet period, then, good spirits are absent, leaving men without defense against evil spirits. On the last day of the year these are released from Hell for seven days. The need to warn off or protect against these evil spirits explains many of the Tet customs.
SUPERSTITIONS OF TET
Just as many Americans consider Friday the 13th unlucky, refuse to walk under a ladder, or won't light three on a match, so many Vietnamese observe taboos associated with Tet.
page 7
All are considered portents of bad luck throughout the year. Some taboos are:
Don't break any dishes

Don't show grief

Don't insult others... This will start a chain of bad luck

Don't borrow fire from a neighbor... This is viewed as lack of faith in the family's ability to provide warmth needed for a happy life.

Never clean house during Tet... It is believed that one should not sweep out dirt during Tet's first three days because one might sweep away the fortune by the new year.
HOW TET IS CELEBRATED TODAY
Months before Tet, businessmen get ready for a big selling season. Items in greatest demand are food, clothing, gifts, candles and flowers.
Practically every family forgets thrift. Large quantities of food are bought for the holidays. According to tradition, the who goes out on the first day of Tet with old clothes admits to the basest form of poverty. It is very difficult to get tailoring done just before the holidays.
All preparatory activities for Tet come to an abrupt end at noon the day before the holiday. As if it were Friday, Christmas Eve, everyone hurries home to start three days of feasting, celebration and general merriment. Most people get time off from work, with pay. Many receive cash bonuses. Those required to work are paid more than their normal salaries.
Tet ceremonies begin the afternoon before the new year when the family welcomes back the good Spirit of the Hearth from his visit with the Jade Emperor. The same afternoon a special ceremony is held during which deceased relatives are invited to join the festivities.
At midnight firecrackers herald the new year and chase away evil spirits. A midnight ceremony is held for the good spirits and family ancestors at a candle-lit altar in the open air near the house. After this, the family may go to the pagoda to burn incense, and pray for a prosperous new year. They take home a bud from a plant or tree as a symbol of happiness.
On Tet morning special foods are placed on the family altar for the returned ancestors. (These meals will be repeated twice daily until Tet is over.) Then children receive gifts and the family exchanges New Year wishes.
IT'S IMPORTANT
The appreciation of Tet depends on the understanding of the customs, traditions and ceremonies. Respect for the beliefs of others is fundamental to all democratic peoples. We can illustrate this by showing the proper spirit. By observing rules of courtesy and consideration on can enjoy the season of Tet. Remember -- to a Vietnamese, what a man does during Tet forecasts his actions for the rest of the year. [End]

© 3/17th Air Cavalry Squadron
---


---