Silver Spurs

A Troop, 3/17th Air Cav
Troop History April 1970
Redhorse Review Excerpts
The Redhorse Review was a monthly 3/17th Squadron newsletter published in-country. The following excerpts from our squadron newsletter were saved all these years by Bob Bennett, Blue Tiger 20 -- 7/69-7/70.
Bill Nevius, Delta Troop 3/17th webmaster graciously provided us copies for transcription.
Photos shown were not part of the original newsletter.
Roger Young -- Silver Spur webmaster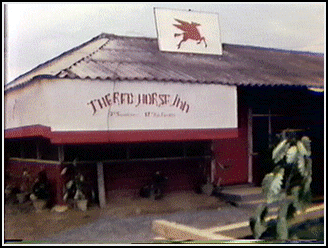 The Redhorse Inn
Courtesy of Spur Scout Tom White

From the April 1970 Edition:
the REDHORSE REVIEW
Volume 1 Number 7
Di An, Vietnam
April 1970

pg 2
REDHORSE REVIEW
Commanding Officer......LTC Gordon T. Carey
Information Officer.........1LT Charles S. McCulloch
Editor.................................PFC Frankie J. Witcher
The REDHORSE REVIEW is an authorized monthly publication of the US Army, published by the Information Office, 3d Squadron, 17th Air Cavalry, APO 96289 (telephone: Di An 2281). Newspaper circulation: 400 copies.
Opinions expressed in the REDHORSE REVIEW are not necessarily those of the Department of the Army. The services of the Armed Forces Press Service are used, and others sources as noted.
Contributions to the REDHORSE REVIEW should be sent to the Squadron Information Office NLT the 27th of each month.
APRIL 15 ... The ocean liner "Titanic" collided
with an iceberg in the North Atlantic and sank
on this day in 1912.
SECURITY is like flowers, protect it and it will live.... AND YOU WILL TO!
=======================
page 1
RETURN OF THE SILVER SPURS
Their eighty day mission complete, A Troop, 3d Squadron, 17th Air Cavalry, came home to Di An. After serving in the "Bad Boogaloo" Delta since their movement to their temporary home of Soc Trang in early January, the "Silver Spurs" were reunited with their sister troops. While there, the Spurs were constantly making life miserable for any enemy troops crossing their path. Their record for the eighty day adventure was 212 KBA's with 450 structures and 250 sampans destroyed, which adds up to a very successful mission.
The Silver Spurs accomplishments during their stay in their new area was not easily won, although very few of the hardships were caused by enemy forces. The largest difficulty that the Spurs encountered was their separation from the 575th TC Maint Det, A Troop's maintenance section. This caused for limitations in personnel, material and equipment. Working conditions also were not easy to cope with. Working late, maintenance crews were troubled with poor lighting conditions and constantly bothered by limited hangar space. The availability of aircraft parts from Di An proved to be frustrating and [a] time consuming factor. The main difficulty caused was battle damage to Spur aircraft. Fifty-three aircraft received hits during the complete operation, but over half of these were in one month. Despite the staggering obstacles faced by the maintenance department, 1Lt Michael Carothers of Mineral Wells, Texas, and the complete maintenance squad dedicated themselves to overcoming those problems. With a lot of hard work, a great deal of ingenuity, numerous "scrounging" sorties, assisted by personnel of the 575th, and a touch of luck, they succeeded.
Tactical problems that arose were mainly due to the unfamiliar terrain and increased enemy capability. In an attempt to arrive at a solution to these problems and meet the demands of the mission, the Spurs flew tactical configurations other than hunter-killer teams. At first two cobras were used in fire team fashion to cover a white team of two LOH's. The Spurs had limited success while using the white team due to combat damages sustained by several of the trail LOHs. After careful evaluation of the circumstances surrounding these incidents, it was concluded that the value of the trail LOH as additional fire support was overshadowed by its vulnerability to enemy fire, and thus discontinued. The deletion of the trail LOH, restored the lead LOH the flexibility and freedom of the single LOH in hunter-killer teams. The two cobras and the command and control aircraft, a UH-1H under which all air assets are under command and control, were retained to provide greater volume of firepower and a more secure means of extracting downed crew members than a single cobra could provide.
page 2
The success of A Troop's expedition in the Delta was attributed to the use of "Heavy" hunter-killer teams, the use of two cobras instead of the usual single cobra. The use of two cobras to cover one another on rocket runs proved to be a necessary tactic in the notorious U-Minh forest in which A Troop conducted the majority of their operations.
Although they were successful in KBAs, destroying enemy material, and suffering no battle losses themselves, A Troop suffered their share of battle damage. Spur aircraft received fifty-three hits from enemy ground fire consisting mostly of automatic weapons with occasional .50 cal. and B-40 rocket fire encountered. Although the number of aircraft hits were high, only six aircraft were classified as useless as a result of battle damage. Two of the downed craft were cobras and the remaining four were LOHs. In all instances of enemy fire, only minor injuries were sustained by crew members. During the eighty day period A Troop's casualty list was three Silver Spurs wounded in action.
One of the greatest factors that allowed the Spurs to produce their tactical accomplishments was the apt leadership and coordination of the various mission commanders providing air assets. A Troop Commander, Major Arthur S. Dervaes III of Savannah, Georgia; Troop Executive Officer, Captain Harold R. DeGraw of Milwaukee, Wisconsin; and Captain Franklin Bryant of Huntington Beach, California, Assistant Operations Officer, Captain Douglas E. Cook of Dayton, Ohio; and Scout Platoon Leader, Captain William Reynolds of Ozark, Alabama; provided necessary impetus to boost A Troop to the completion of their mission. As air mission commander, their job was very fatiguing and demanding, requiring them to fly ten to twelve hours a day to keep the Spur assets at the peak of combat readiness. It was not just the air mission commanders and the aviators, but a united effort that gave A Troop a great combat team and a successful operation in the Delta. [End}
=======================
page 4
LOGISTIC READINESS AWARDS
Congratulations are in order to all personnel listed below. They executed that extra effort to be recognized by their respective troops for the December Logistical Readiness Awards competition. Each individual will receive a $10.00 check for his outstanding performance.
A Troop
Gehringer, Frank E. -- PFC -- Best Cook
Obernuefemann, Jerome J. -- SP4 -- Best Supply/PLL Clerk
Meatty, Reginald A. -- SP4 -- Best Driver/Mechanic
Young, Roger R. -- PFC -- Best Aircraft Mechanic
Smith, Rex D. -- SP4 -- Superior Job Performance
Kephart, Harold N. -- SP4 -- Soldier of the Month
=======================
page 4
FACTS ABOUT THE ARMY
Did you know that:
Mail for soldiers should include the social security number (SSAN) of the individual to whom addressed? This helps to speed delivery.

Army experience in evacuating wounded by helicopter might lead to the use of rotary wing aircraft in evacuating highway accident victims in the U.S.? Several government agencies are studying the idea.

Army engineers built the Washington Monument? They completed the job on December 6, 1884.
=======================

page 11

SILVER SPUR NEWS

"U-MINH CONTACT YIELDS 40 KBA'S"

Friday the 13th is noted as a day when bad luck reigns and good fortune is a myth. For a unit of NVA soldiers in the area southwest of Rach Soi, on the northwestern fringe of the U-Minh Forest on the 13th and 14th of March, everything was true to form. A joint effort between ARVNs of the 33d Regiment, 21st Division and U.S. troopers of A Troop, 3d Squadron, 17th Air Cavalry helped fulfill the Friday the 13th legend. Just a sample of the enemy's misfortune were 40 KBA, 30 fortified structures and a .50 cal. machine gun destroyed.

The action got off to a successful start on the 13th of March, 1970 under the capable direction of Captain William Reynolds, air mission commander, of Ozark, Alabama. The Silver Spurs OH-6A scout helicopters reported large numbers of enemy troops around the friendly forces landing zone. Captain Reynolds ordered an insertion of ARVN troops into the suspicious looking LZ. More than a hundred ARVNs were inserted into the LZ and immediately confirmed the intelligence report. The ground forces battled the aggressive hostile forces for three and a half hours before repelling the enemy force. The ARVNs were supported throughout the operating by AH-1G "Cobra" gunships. The Spur aircraft sustained heavy automatic and semi-automatic weapons fire on each mission run, according to later ground troop reports. The Silver Spur aircraft commanders instrumental in aiding the ARVNs in repelling the enemy troops were Captain Christopher Pixton of Tacoma, Washington, Captain J.C. Moss of Pinta, Texas, WO Robert C. Dibbern of Chamberlain, South Dakota, and WO David F. Tela of Turner Falls, Massachusetts. Only one Cobra gunship received hits during the complete operation. Contact was not broken until after nightfall when the enemy was forced to retreat into a nearby wooded area for security.

The next day the Silver Spurs returned to the contact area with Alpha Troop Commander, Major ARthur S. Dervaes III of Savannah, Georgia, as air mission commander. The Silver Spurs along with the ARVNs were fully prepared to make the day even worse that the day before for any NVA that still refused the "Legend of the 13th." Spur scouts cautiously combed the thickly foliated canal lines, in hopes of starting the battle anew. Expecting greater contact, five insertions were made instead of just three as the day before. These insertions totaled over 150 ARVN ground forces that were ready to continue to punish the remaining enemy troops. The scouts managed to obtain sporadic fire from enemy gunners but these short actions were quickly subdued by the ground forces and air strikes. Rockets, from an off-shore U.S. Navy vessel, pounded the enemy locations throughout the final day's mission. But this was not all the NVA had to cope with. The VNAF with A1-E Skyraiders flew numerous air missions and again pounded suspected enemy locations. The ARVNs did not get to take full advantage of all firepower available, because of the NVA's unwillingness to fight.

Finally, the ground forces were able to inspect the damage of the air raids, rocket strikes, Cobra gunship runs, and the ground force probes. Highly fortified and stoutly built enemy structures were destroyed along with equipment of the NVA ground units. A document found on one body of the NVA, indicated that he was a Regimental Commander. Other documents of lesser value were found on other bodies. The total size of the NVA unit was estimated at about 250 to 300 men. The airstrikes and aggressiveness of the ground forces helped reduce the enemy unit. [End]

=======================

page 11

SILVER SPURS AWARDS AND PROMOTIONS
DISTINGUSHED FLYING CROSS

CPT John Earwood
CPT Donald Duncan
CPT Christopher Pixton
CW2 Edward Ryan
WO1 Albert Graybeal

ARMY COMMENDATION MEDAL "S"

SP5 Robert Bretschneider
SP4 Peter Maki

ARMY COMMENDATION MEDAL "V"

SP4 Gary Rieger
SP4 Eric Nelson
SP4 Ronald Frizzel
SP4 Martin Leest
page 13
PROMOTIONS

To SGT (E-5)

Medina, Rafael
Lanley, Morris
Obernuefemann, Jerry
Balatbat, Petronilo

To SP5 (E-5)

Wolfe, Dennis V.
Robinson, David L.
Studer, Lawrence P.
Yates, Charles E.
Stukes, William B.
Stevens, Charles R.
Brandenburg, Paul
Echard, Joseph T.
Thompson, William G.

To SP4 (E-4)

Goode, James P.
Jennings, James S.
Joseph, Reginald
Larson, Lester A.
Plasman, David D.
Young, Roger R.
Coats, Merlin T.
Smith, Herbert R.
Stinnett, George A.
West, Melvin
Thompson, Walter J.
Owen, George R. [End]
=======================

page 13

A TROOP IN JOINT EFFORT WITH ARVNS

A recent joint effort of A Troop, 3d Squadron, 17th Air Cavalry and the 33d Regiment, 21st ARVN Division in the northwestern sector of the U-Minh Forest [aka "Forest of Darkness"] accounted for 11 NVA KBA. On 19 March 1970, the A Troop "Spurs" were performing a visual reconnaissance [VR] mission in the U-Minh forest when the scout aircraft received automatic and semi-automatic small arms fire from ground forces. Reacting swiftly, Captain William Reynolds of Ozark, Alabama, flying the command and control ship, maneuvered the aircraft to engage the enemy. C&C door gunners, crewchief SP4 William Thompson from Pine Bluff, Arkansas and Petronello Balabat, gunner, from Manila, Phillipines, engaged the enemy. Gunships exploited the enemy contact with rocket and minigun fire accounting for a total of 5 KBAs. During the contact, A Troop "slicks" inserted 88 members of the 33d Regiment, 21st ARVN Division for a ground sweep through the area. The combined firepower of the ARVN troop and A Troop aircraft resulted in the dispersion and defeat of the enemy unit. ARVN forces later confirmed 11 NVA KBA for the deadly "Silver Spur" gunners. [End]

=======================

HE FIGHTS TO LIVE

By SP5 Stuart M. Richel, as appeared in Danger Forward, magazine of
the 1st Infantry Division, Vol 3, No 4, Winter 1970

The man is a youngster, a teenage, but a seasoned veteran. He is a man. To believe otherwise is folly; but to gape at such truism is to be astounded by the obvious.

Where there is work to be done, no one is more capable. If the chores be mundane, he will do it, though perhaps without blinding speed. Where the task is of importance, no one will delay him. That danger crosses the path before him is of no consequence. Others are prepared for the challenge. Their heritage, their training, their pride in country ---- all thee dictate that the man respond with courage and dignity. The incident will pass and simply become memory.

Let his manliness not belie his gentle nature. His conscience mourns the creation of death, and the labors and tactics which bring about such lifelessness. Though oncoming hordes will not incapacitate him, his heart will cry out at the sight of a child in distress.

His body is covered, not with modern fashion, but with the rags and grime of war. He looks to his sleeve or a towel around his neck to remove the stain, not fortunate enough to have greater convenience at hand.

The clouds around him are hardly silver-lined. They are laden with rain. They are simply makers of mud. Their only redeeming value is as a buffer, stopping the sun from bearing down mercilessly.

As if to tease, the sun will replace the unbearable heat, and dry the feet sore and rotted. The man takes it, doing what he must, doing whatever he can against the elements.

He warms his food, if at all, with the heat from stick-like explosives, rather than a gas range. His food is usually tolerable, but becomes quite tiresome after nine or ten months of similarity. Fruit cocktail and pound cake are delicacies, much the same as snails or caviar to the Beautiful People. The fruit and cake are to be sought with diligence, and protected with all but life itself.

Don't speak of loneliness to him. He knows it too well.

Don't preach about losses, and the meaning of death. He has a history which enables him to count higher than you. And no one has undergone more of the experiences which make a guy cherish life and what it has to offer. He has lived and fought with great friends, some of whom will return home. But he notes the irony that those who live, live only to return to riots, bloodshed, despair ---- or perhaps hope.

Don't speak to him of race. The blood his brothers shed was real, and not strangely, was as red as his. When it got down to survival and life was on the line, colors blended. After all, color won't stop a well aimed round.

Speak to him of nice things. Scream about living and life itself. Whisper about people, love and softness.

He is a human being. And, as such, wants to leave "grunt" and "leg" behind him, in the dim past, where such history belongs. His personal victory is simply in terms of "DEROS" ---- leaving Vietnam. He has finished his one year tour, no more chalking off days on a calendar. And now his future lies with his folks, his girl, his job ---- his world.

That world should thank him and let him go on his way. Give him the respect he merits, but ---- no parades or pedestals, please. Allow him to pick up the pieces and move on to a new and fruitful life.

As an infantryman, he has earned his keep, his place cut to the sun. He deserves no less. [End]

© 3/17th Air Cavalry Squadron
---


---