Silver Spurs

A Troop, 3/17th Air Cav
Troop History May 1970
Redhorse Review Excerpts
The Redhorse Review was a monthly 3/17th Squadron newsletter published in-country. The following excerpts from our squadron newsletter were saved all these years by Bob Bennett, Blue Tiger 20 -- 7/69-7/70.
Bill Nevius, Delta Troop 3/17th webmaster graciously provided us copies for transcription.
Photos shown were not part of the original newsletter.
Roger Young -- Silver Spur webmaster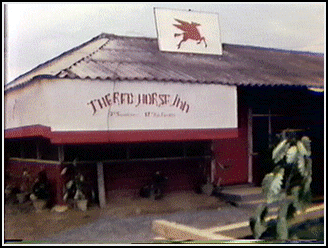 The Redhorse Inn
Courtesy of Spur Scout Tom White

From the May 1970 Edition:
the REDHORSE REVIEW
Volume 1 Number 7
Di An, Vietnam
May 1970

pg 2
REDHORSE REVIEW
Commanding Officer......LTC Gordon T. Carey
Information Officer.........1LT Charles S. McCulloch
Editor.................................PFC Frankie J. Witcher
The REDHORSE REVIEW is an authorized monthly publication of the US Army, published by the Information Office, 3d Squadron, 17th Air Cavalry, APO 96289 (telephone: Di An 2281). Newspaper circulation: 400 copies.
Opinions expressed in the REDHORSE REVIEW are not necessarily those of the Department of the Army. The services of the Armed Forces Press Service are used, and others sources as noted.
Contributions to the REDHORSE REVIEW should be sent to the Squadron Information Office NLT the 27th of each month.
COMMANDER'S NOTES
"A SENSE OF URGENCY"
Because of our Air Cavalry organization, our many and varied capabilities and our awesome firepower, there is a constant demand for air cavalry support by each and every tactical commander in the III Corps Tactical Zone. We provide that needed support. On any given day we may support anywhere from three to nine different tactical units or tactical areas with visual reconnaissance, hunter-killer operations, or limited ground reconnaissance. We can provide continuous air cavalry support because of the mission orientation of this squadron and, even more importantly, a sense of urgency in the daily performance of every man.
The sense of urgency motivates us to do a little more, a little better, and a little faster. To do it right the first time and, once started, to continue work until the job is finished. It's the individual's inner drive that makes this squadron ever ready when needed.
It is difficult to measure that added effort but one way is in how many or how much is ready for use now. How many aircraft? How many vehicles? How many radios? How many weapons? How many men?
This squadron does possess that special ability of the individual serving the urgency and importance of the results of his labors. It is what makes us ready at any time for air cavalry operation from the Delta to the "Rice Bowl" to Cambodia.
LTC Gordon T. Carey, Commanding
=======================
page 6
BOOBY TRAP
"ZIPPO TYPE" CIGARETTE LIGHTER
The VC reportedly are in possession of two thousand cigarette lighters containing plastic explosive. The lighters, and imitation of the "Zippo" lighter, are set to explode when the flint wheel is turned. The charge is sufficient to kill one or two persons at close range. The plan is to distribute the explosive filled lighters along roads and in public places frequented by U.S. personnel, giving the appearance that the lighters were left by accident. Exact country -- wide distribution is unknown at this time.
The enemy has been known to make use of such booby trapped lighters in the past to inflict casualties upon unwary individuals.
Any lighters "found" should not be tampered with or moved. [End]
=======================
page 9
SILVER SPUR NEWS
ANOTHER DAY FOR ALPHA TROOP
by WO1 Charles J. Neal
Dawn broke as a normal day began for A Troop, 3d Squadron, 17th Air Cavalry. The day's mission called for a Hunter-Killer team comprised of one LOH and one coba to fly south from Di An to Tan An in support of the 9th ARVN Division.
After escorting two routine extractions and a fruitless sniper mission, the "Silver Spurs" settled down for a combat assault following up an intelligence report from the previous day. Approximately 30 VC were reported in an area about four miles northwest of Tan An. While the Cobra circle protectively overhead, the LOH found a suitable LZ and popped smoke for the inbound Slicks. The ARPS (Aero Rifle Team) were inserted without a hitch, the Slicks mad their get away, and the assault was underway. A Chu Hoi product advised the ARPS as they moved south across a stream while the Hunter-Killer team continued its search for Charles.
Clearance to fire was requested byt he LOH after it found a well camoflaged bunker. Permission granted, the Cobra rolled in, expended ten rockets and broke for the LOH to re-enter the area. Suddenly, the LOH called "receiving fire" from the bunker that had seemed so innocent only minutes before. Once again the Cobra rolled in, this time in an effort to still the rifles now threatening the little bird. The C & C aircraft quickly called in another Hunter-Killer team as the contact continued.
Two casualties from the ARPS were quickly medevaced back to Tan An by the Slicks as one of the Hunter-Killer team returned to refuel and rearm.
The ARPS, slowed by booby-traps pointed out by the Chu Hoi, finally approached the now silent bunker to find the Cobra's answer to ground fire -- six KBAs (VC).
With the ARPS extracted and the mission completed, the "Spurs" headed home. [End]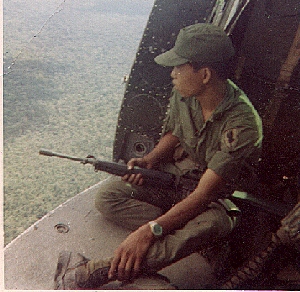 Spurs Chu Hoi Scout, Dinh
KIA with SP4 Tagipo V. Tauala on 15 Feb 71

Photo courtesy of David Sizemore, Lift Crew Chief
=======================
page 9
TWIN BILL FOR ALPHA TROOP AND CAV
by WO1 Charles J. Neal
Ronald D. Bates was born on the ninth day of January 1950, just seventeen minutes before his twin brother, Donald Lee. Together, they began their assault on life and together they've been ever since. Through high school at Centerville, Iowa, and then to DesMoines for a year of construction work before the draft seeminly broke up the team effort.
Ron was drafted, but Don was not to be denied. He took the oath on July 25th, 23 days after Ron. From there, he followed Ron's course throught basic and AIT at Fort Polk, Louisiana. Later, being sent to Cam Rahn Bay, he requested that he be stationed with his brother. Finally, they rejoined each other in Alpha Troop, 3d Squadron, 17th Air Cavalry, as riflemen in the Aero Rifle Team of the unit.
After their Army days, "The Boys," as they are dubbed by their indentical tatoos, plan to study business law or administration in college. [End]
=======================
page 10
LIGHTNING STRIKES TWICE
by WO1 NICHOLAS A. DELMORE
Ever hear of lightning strikes twice? Well, that's just what happened to Captain William Reynolds of Macon, Georgia, on April 20, 1970. While piloting an OH-6A ["Kathie" crewed by SP4 Roger Young] on a Hunter-Killer team visual reconnaissance in the Iron Triangle, Cpt Reynolds was instructing a new LOH pilot, WO1 Bert Graybeal, in scouting tactics.
They spotted a suspicious bamboo thicket and proceeded to give it special attention. Sure enough, concealed under the foliage was a bunker. At first Cpt. Reynolds' evaluation was that it was an old bunker, but closer inspection revealed freshly cut nippa palm leaning along side it. As WO1 Graybeal was marking the target with smoke, "Chuck" opened up. WO1 Graybeal answered with the LOH's M-60 while Cpt Reynolds exited the area immediately. At this time, Cobra aircraft commander CW2 William Specht flattened the bunker with 17 pounders.
Cpt. Reynolds' LOH managed to fly a "klick" or two before the engine gave out [The engine's gearbox took a hit] and they were forced to down. Not until they had touched down did Cpt Reynolds realize he'd suffered a flesh wound in his leg.
The most surprising aspect of the incident is: During his first tour in the Republic of Vietnam, Cpt. Reynolds (then WO1 Reynolds) served with the 173rd Airborne Brigade. While flying an OH-13 during a scouting mission, he was shot down not more than two "klicks" from the bunker that did him in this time.
When asked if he would be visiting the Iron Triangle shortly, he replied, "Well, not until after R&R anyway." [End]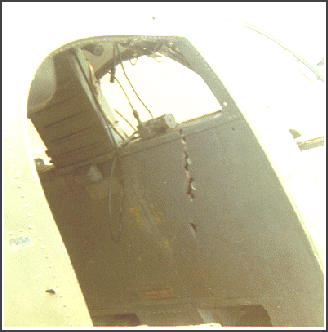 Notice bulkhead "stitched" behind Cpt. Reynolds' armored seat

There were approx. 18 separate 'hits' counted after the ship was recovered!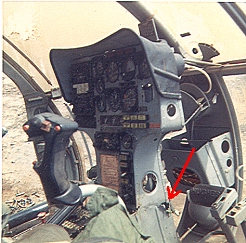 Arrow indicates bullet hole in instrument pedestal that wounded Cpt. Reynolds

Photos courtesy of Roger Young -- "Kathie" C.E.

After Vietnam, Roger married Kathie who the LOH was named after.

© 3/17th Air Cavalry Squadron
---


---