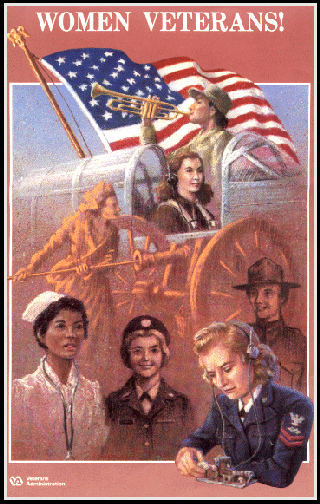 Courtesy of the Veterans Administration
SOME IMPORTANT DATES
IN THE HISTORY OF MILITARY WOMEN
JUNE 14, 1775 U.S. Army established
OCTOBER 13, 1775 U.S. Navy established
NOVEMBER 10, 1775 U.S. Marine Corps established
AUGUST 4, 1790 U.S. Coast Guard established
SEPTEMBER 18, 1947 U.S. Air Force established
=================
JANUARY 2, 1901 Army Nurse Corps established
MAY 13, 1908 Navy Nurse Corps established
NOVEMBER 11, 1918 Veterans Day (WWI Armistice signed)
MAY 15, 1942 Women's Army Auxiliary Corps (WAAC) established
JULY 30, 1942 Women Accepted for Volunteer Emergency Service
WAVES) established (by Public Law 689)
[LCDR Mildred McAfee assumed post as the
first Director on August 3.]
NOVEMBER 8, 1942 "Operation Torch" -- Army Nurses and WAACs
deployed to North Africa [60 Army Nurses
landed with assault troops in N. Africa
near town of Arzew. Often under sniper fire,
nurses of the 48th Surgical Hospital began
caring for invasion casualties. On Nov. 13,
1942, the ship carrying the first 5 WAAC
officers to the war was sunk. Rescued by a
British destroyer, they served on
Eisenhower's staff.]
NOVEMBER 23, 1942 Women's Reserve U.S. Coast Guard (SPARs)
established under LCDR Dorothy Stratton
["SPAR" from the Coast Guard motto Semper
Paratus "Always Ready"] [NOTE: SPARS were
stationed in all U.S. Coast Guard District
offices except Puerto Rico, and eventually
deployed to Hawaii and Alaska. Their
assignments were clerk, storekeeper,
parachute rigger, chaplain's assistant, air
control-tower operators, boatswains' mates,
coxswains, radiomen, ship's cook, vehicle
drivers and pharmacist's mates. A few SPARs
work on loran, then a secret radio signal
system.]
JANUARY 13, 1943 Marine Corps Women's Reserve established
JANUARY 27, 1943 The first WAAC unit overseas, the 149th,
landed in Algiers and provided clerical,
telephone and postal support. [Note:
First Hispanic WAAC, Carmen Contreras-Bozak,
served with the 149th WAAC HQ in Algiers.
FEBRUARY 13, 1943 Marine Corps Women's Reserve (WRs) established
[Maj. Ruth Cheney Streeter was first
Director of WRs]
JULY 1, 1943 Women's Army Corps (WACs) established
AUGUST 5, 1943 Women Airforce Service Pilots (WASP)
established [merged from Women's Auxiliary
Ferrying Squadron (WAFS) founded by Nancy
Love in September 1942 and Women's Flying
Training Detachment (WFTD) commanded by
Jacqueline Cochran] [NOTE: Over 1,070
served and 38 were killed in plane crashes.
WASPs did not receive veteran status until
1977.]
JANUARY 27, 1944 Army nurses wade ashore at Anzio, five days
following the invasion. Six Army nurses
died in early February in bombings.
JUNE 10, 1944 Army nurses land at Normandy, four days after
D-Day.
JULY 14, 1944 The first WACs arrive at Normandy, serving
as telephone operators, typists, clerks,
secretaries, and drivers. More than 8,000
WACs served in the ETO, including England,
Scotland, Wales, France, and Germany
SEPTEMBER 27, 1944 Public Law 44 signed permitting WAVES and
Women Marines to serve overseas.
[Army and Navy nurses were in the Pacific
Theater prior to Pearl Harbor--some taken
prisoner by the Japanese in the Philippines.
By war's end, military nurses were scattered
across the theater in hospitals, air
evacuation units, and on hospital ships.
Six Army nurses were killed when a Japanese
suicide plant his the USS Comfort off
Okinawa. Over 5,500 WACs deployed to the
SW Pacific Theater in places like Hollandia,
Oro Bay, New Guinea, Leyte and Manila. A
few SPARs served overseas in Alaska and
Hawaii. After P.L. 44 was signed, WAVES and
WRs were deployed to Hawaii.]
OCTOBER 19, 1944 Black women were admitted to the WAVES.
Lt(jg) Harriet Ida Pickens and Ens. Francis
Wills were the first black WAVES commissioned
FEBRUARY 3, 1945 Army Nurse POWs and Navy Nurse POWs released
in the Philippines
FEBRUARY 11, 1945 6888th Central Postal Directory Battalion
-- the only black WACs to serve overseas --
arrived in Europe and broke all previous
records in getting mail to the front lines
MARCH 1945 First Navy flight nurse, Ens. Jane Kendeigh,
USNR, reaches Iwo Jima.
APRIL 16, 1947 Women's Medical Specialist Corps established
JUNE 12, 1948 Women's Armed Services Integration Act enacted
JULY 1, 1949 Air Force Nurse Corps established
NOVEMBER 8, 1967 Women eligible for General and Admiral ranks
JUNE 11, 1970 Two women promoted to 1-star rank
JUNE 1, 1973 First woman promoted to 2-star rank
OCTOBER 20, 1978 Women's Army Corps (WAC) disestablished
NOVEMBER 6, 1986 Women In Military Service For America Memorial
authorized
NOVEMBER 11, 1993 Dedication of the Vietnam Women's Memorial,
Washington, D.C.
OCTOBER 18, 1997 Dedication of the Women In Military Service
For America, Arlington National Cemetery
JULY 17 (now in Sept) POW-MIA Recognition Day [let us never forget
the courage and sacrifice of our women
POWs-MIAs]
***********************************
Above information courtesy of WIMSA
Posted: 9 Nov 97
The Northwest Veterans Newsletter