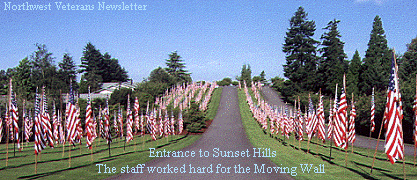 The Vietnam Wall Experience 2001
Build it, and they will come...
KOMO-TV4 News Coverage from that weekend: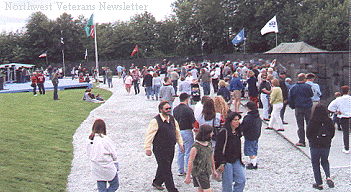 Thousands visted the Wall at Sunset Hills
July 27th - 29th 2001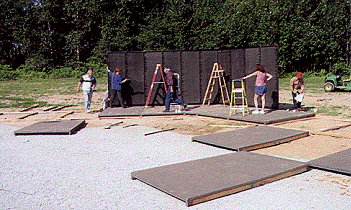 Construction began at 8:00 a.m. at Sunset Hills on Wednesday
July 25th, beginning with the apex of the Wall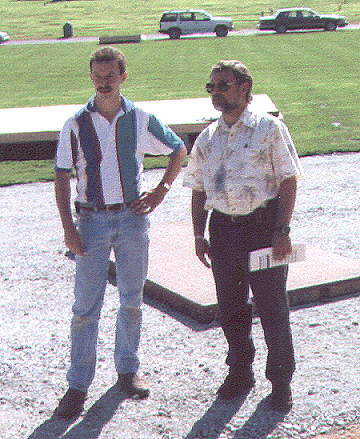 Dignity Memorial's Area Manager, J.C. Barr (L) and KOMO-TV4's Doug Tolmie
(Special Projects Manager) (R) greatly contributed to the success of the event at Sunset Hills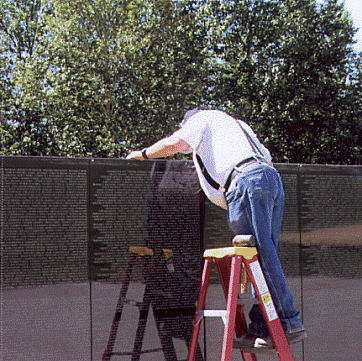 Dan Daniels, SCPO Navy (Ret) and Wall Construction Committee Chair,
from Vietnam Veterans of America Chapter 423,
installs cap on West Wing to complete Wall assembly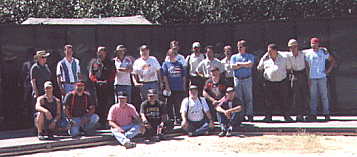 At 3:00 pm, part of the volunteers who assembled this labor of love
in Remembrance of our fallen brothers and sisters...


The completed Wall at beautiful Sunset Hills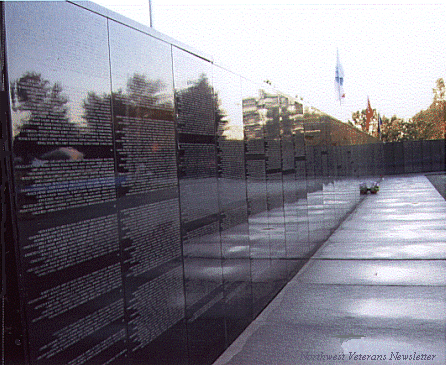 The West wing of the Wall at Sunset Hills
A Salute to Women Veterans
[After-action report]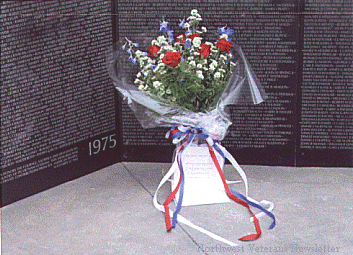 Bouquet of flowers left at the apex in loving memory of:

CAPT. Eleanor Grace Alexander, U.S. Army
Panel No. 31E, Line No. 8

2LT. Pamela Dorothy Donovan, U.S. Army
Panel No. 53W, Line No. 43

2LT. Carol Ann Drazba, U.S. Army
Panel No. 5E, Line No. 46

LTC. Annie Ruth Graham, U.S. Army
Panel No. 48W, Line No. 12

2LT. Elizabeth Ann Jones, U.S. Army
Panel No. 5E, Line No. 47

CAPT. Mary Therese Klinker, U.S. Air Force
Panel No. 1W, Line No. 122

1LT. Sharon Ann Lane, U.S. Army
Panel No. 23W, Line No. 112

1LT. Hedwig Diane Orlowski, U.S. Army
Panel No. 31E, Line No. 15
Friday's main event was "A Salute to Women Veterans" which was a very moving event for all of those in attendance.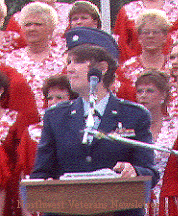 LTC Patti Hendrix MC'd the Salute to Women Veterans.
She served as a US Army Nurse in Vietnam and was a dedicated volunteer throughout the event!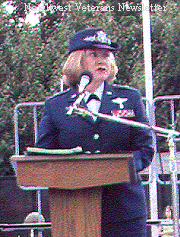 BG Marcia Clark (USAF, Ret) was not only the Keynote speaker on Friday,
she also represented the USAF on Saturday and spoke with
many veterans throughout the two days she attended!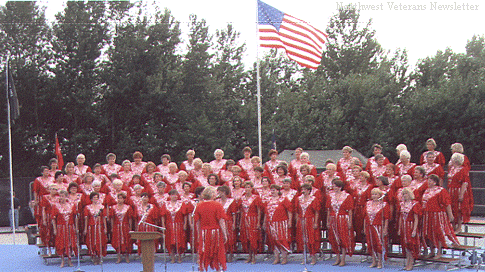 Pacific Sound ladies chorus was outstanding!
Some of the moving highlights were the impressive flyovers by the Blackjack Squadron, the awe-inspiring 150 voices of the Pacific Sound ladies chorus, the enchanting music provided by the Bellhops (youth hand bell choir), the eloquent keynote speech by BG Marcia Clark giving the history of women in service to their country since the Civil War (which drew a standing ovation), and the dove release (58 white doves, one for each 1,000 names on the Wall, plus one black-tailed dove in remembrance of our POW/MIAs). Of course, the heartmoving music of Amazing Grace by the Seattle Bag & Pipe Corps. It was truly one of the memorable events we have ever attended.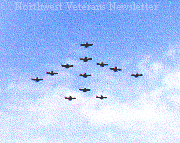 Blackjack Squadron performs "Big Plane" flyover (C141) for the ladies
The Squadron also performed the Diamond, B-2 Bomber, and Missing Man Formations
GREAT JOB GUYS!
At the end of the ceremony the women who served in Vietnam in all capacities were asked by Mike Rogers (US Army - Ret) to stand and come to the podium to be recognized. Mike's heartfelt introduction moved many to tears.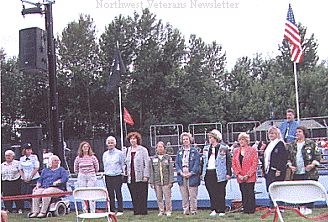 LTC Rogers (USA Ret) introduces the ladies who served in-country
Without the ladies prior knowledge, Vietnam vets from VVA-423 presented the ladies with their Purple Hearts for the wounds the ladies received to their hearts while serving in-country in Vietnam. It was a very moving moment for all in attendance.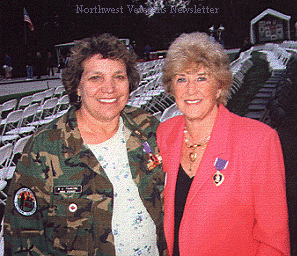 USN Nurse Mary-Ann Harris (L) & Betty Tisdale (R) "The Angel of Saigon" wearing Purple Hearts
Mary-Ann served on a hospital ship in Vietnam,
Betty was a civilian humanitarian who helped rescue 219 orphans during the fall of Saigon
Master of Ceremonies: LTC Patti Hendrix [LTC Hendrix did an OUTSTANDING JOB!]
Welcome: J.C. Barr, and Mike Rogers
Parade of Colors: All-service, all-women members
National Colors: VFW Post 2995
National Anthem: Pacific Sound
Pledge of Allegiance: Captain Tonya Williams
Invocation: Jackie Holzinge
Dove Release: Music by the Pacific Sound
Music: Seattle Bag & Pipe Corps
Keynote Address: BG Marcia Clark, USAF, Ret.
Music: Bellhops (youth hand bell choir)
Special Presentation: Mike Rogers (purple hearts to the ladies)
Benediction: Jackie Holzinger
Music: Seattle Bag & Pipe Corps
Rifle Salute & Taps: VVA Chapter 423
At 10:00pm, there was a candlelight Vigil
"If you are able,
Save for them a place
Inside of you
And save one backward glance
When you are leaving
For the places they can
No longer go.
Be not ashamed to say
You loved them
Though you may
Or may not have always.

"Take what they have left
and what they have taught you
with their dying
and keep it with your own.
And in that time
When men decide and feel safe
To call war insane
take one moment to embrace
those gentle heroes
you left behind.



-- Major Michael Davis O'Donnell"
Saturday's main focus was "The Vietnam Wall Experience" which featured General & Flag officers who spoke of the missions their branch of service performed throughout Southeast Asia during the Vietnam War. This was followed by an outstanding keynote address by Major General Patrick Brady, U.S. Army (Ret). And a very special presentation was made by Mike Rogers which we will feature in the near future that brought the audience to tears....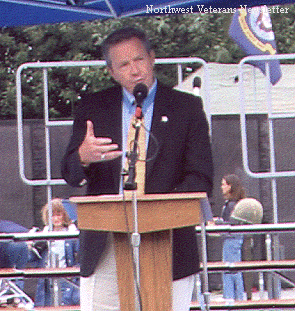 Maj. Gen. Patrick Brady
Saturday's keynote speaker and Medal of Honor Recipient
Welcome: J.C. Barr, Mike Rogers
Parade of Colors
National Colors
National Anthem: Pacific Sound
Pledge of Allegiance: Mike Karr
Amazing Grace: Seattle Bag & Pipe Corps
Invocation: Captain Richard Marin
Dove Release: Music by the Pacific Sound
US Army Representative: BG Dan Coffey [Served as a Dust-off pilot in Vietnam!]
US Marine Corps Representative: Col. Jim Coolican
US Navy Representative: RADM Vincent Smith
US Air Force Representative: BG Marcia Clark
US Coast Guard Representative: RADM John Lockwood
Remarks & Presentation: MG Jim Collins
Keynote Address: MG Patrick Brady
Music: Pacific Sound
Special Presentation: Mike Rogers
Music: Pacific Sound
Rifle Salute & Taps: VFW Post 2995
Benediction: Captain Richard Marin
At 10:00pm, there was a candlelight Vigil scheduled

Sunday's attendance as the weather improved, was by far the best turnout throughout the event. Main features on this last day was the tribute to The Dogs of War and The Concert in the Park.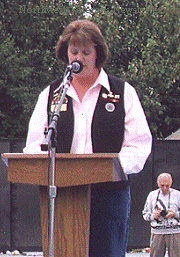 Pam Young (USN '70-'74) was the Keynote speaker for the Dogs of War.
Pam read a moving article from Parade Magazine by Richard Ben Cramer entitled,
"They were Heroes Too"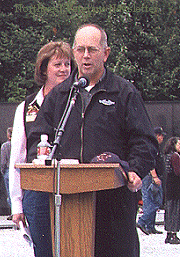 Randy Pennington (101st Airborne, '70-'72) read his
moving poem dedicated to "The Dogs of War"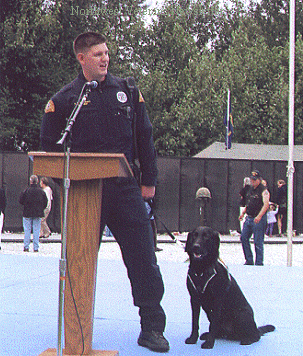 Wash. State Patrol trooper, Officer Genoway
and his narcotics dog, "Vader" gave a live demonstation at the Wall
The WSP uses dogs acquired from the Humane Society!
Trooper Genoway's father served in Vietnam! THANKS!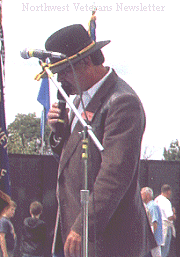 Fellow 3/17th trooper, Chuck Lawrence hosted the Concert in the Park
on Sunday and sang patriotic songs. Chuck also worked
as a grief counselor throughout the event.
Good job Chuck, Cav Rules!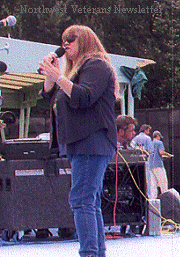 Judy Kennedy did an EXCELLENT job on vocals for the Sunday Performance!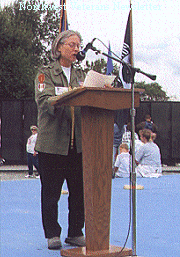 Vietnam US Army Nurse, Sarah Blum shared
her POWERFUL poems with all of us on Sunday!
We'll be posting Sarah's readings in the near future! THANKS SIS!
Also on Sunday's program was a reading by Clara Milborne whose brother is KIA/BNR. We sincerely regret we do not have a photo of Clara to post at this time. Our POW/MIAs are NOT forgotten!
Below are some very special volunteers that we would be remiss not to mention. These are the young ladies that hosted the "Welcome Home" Veterans Day Parade in Granite Falls for Vietnam veterans in 1997. This unique parade drew national and international media attention. At the time these young ladies were just girls. Now they are young ladies who will continue to educate the younger students at Granite Falls and keep the tradition alive. Debra Howell, their former teacher, is shown at the left. Thanks Ladies! Pam & I will always remember that parade and the warm hospitality you extended to all veterans! Debra and the young ladies worked in the locator tent and at the Moving Wall helping visitors locate names.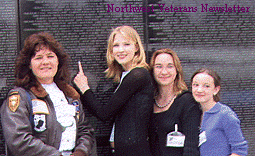 SALUTE to The Vietnam Wall Experience Event Chair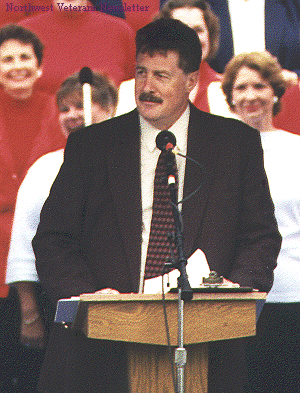 Mike Rogers (US Army Ret.)
Mike, without your hard work, your excellent leadership qualities, your personal and heartfelt devotion to your brothers and sisters, your dedication to our communities, this event would not have been nearly as meaningful for all who volunteered and attended the Wall at Sunset Hills.
You have our deep personal thanks and admiration.
Bear & Pam - The Northwest Veterans Newsletter
Photos courtesy of The Northwest Veterans Newsletter © 2001
Please ask for permission before using
Roger Young
==============
We've had several contact us since the event asking how they can get copies of the in-country artwork that was display at the Vietnam Wall Experience 2001 event. Here's how....
In Country Art.Com
Norm Bergsma
130 Parklane
Kirkland, WA. 98033
425-827-0850
==============
THANK YOU!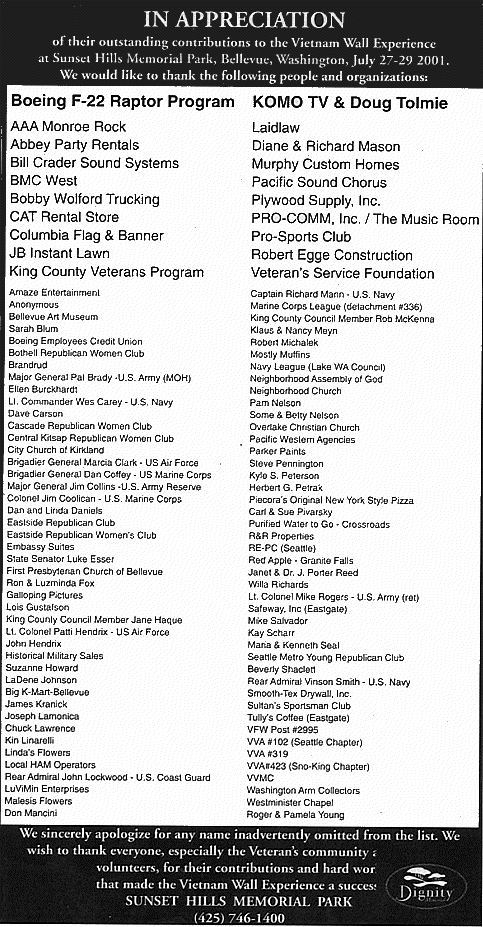 As appeared in the Wednesday, August 8th edition of
The Eastside Journal - Bellevue, WA.
Northwest Veterans Newsletter Index Page