Silver Spurs
A Troop, 3/17th Air Cav
Troop History
1971
Updated 9 March 2015


Transcript of Troop History - 1971
Provided by Alan Ervin to The Northwest Veterans Newsletter
Please note: The 1971 Silver Spur "history" is primarily a "year book" or "annual" if you will. I have posted the short statement and will post various pictures as web storage space provides.
Document transcribed by Roger & Pam Young.


Page 1 of 1

THE STORY OF THE SILVER SPURS
With the large build up of United States Forces in South Vietnam, there was a need for rapid and accurate gathering of intelligence for the Field Commander. To help meet this need The 3rd Armored Squadron, 17th Air Cavalry Regiment was activated on 25 November 1966, at Fort Knox, Kentucky. A Troop 3/17 Air Cavalry arrived in Vietnam in late November 1967 and set up operations in Di-An.
The start of the year 1971 found A Troop 3/17 Air Cavalry, under the Command of Major David Russell operating out of Quan Loi, Vietnam. The troop was working mainly in the Northern part of the Tay Ninh Province area. In late February A Troop started its second operation in Cambodia Rubber area working with the 3rd Armored Cavalry in the Chup Rubber area. For two months A Troop worked this area. Then in May A Troop began working the Snuol.
The Snuol operation turned out to be the hottest operation in Vietnam at that time. As soon as the Snuol operation was over A Troop pulled its operation back into Vietnam. In June Capt. Robert Rice took over the Troop and two days later the troop moved out of Quan Loi down to Lai Khe. The troop continued to work the Binh-Long Province North of Quan Loi. During July the Troop worked operations both in Vietnam and Cambodia. In early August the troop started working the Phuoc Long Province around Phuoc Vinh.
Due to the coming elections enemy activity began to increase around Saigon. A Troop started working Long An Province and Hau-Nghia Province, west of Saigon. During the later part of August and first part of September.
Troop Commanders:
a. PULLIAM, NATHAN M.; 077633; Major Armor


Units Activation through 17 March 1968.

b. WITCHER, ROBERT A.; 091539; Major, Armor


17 March 1968 through 10 June 1968

c. JENKS, JOHN D.; 05307356; Major, Armor


10 June 1968 through 2 December 1968.

d. ZIMMERMAN, RICHARD K.; 052085595; Major, Armor


2 December 1968 through 20 January 1969. [KIA]

e. SANDERS, BURNETT R. II; 073190; Major, Armor


20 January 1969 through 30 May 1969.

f. SMITH, HAROLD L: 073190; Major, Armor


31 May 1969 through 1 December 1969

g. DERVAES, ARTHUR S. III; xxx-xx-xxxx; Major, Armor


1 December 1969 through 17 June 1970

h. RAFFERTY, JAMES; xxx-xx-xxxx; Major, Armor


17 June 1970 through 26 December 1970

i. RUSSELL, DAVID; 097759; Major, Armor


26 December 1970 through 17 June 1971

j. RICE, ROBERT R; Captain, ?

------------------------------------

HONOR ROLL
TAUALA, TAGIPO VAOGA


DECELLE II, ROBERT EUGENE


BENNETT, THOMAS EVANS


HAKES, CLARENCE DEAN


GOELZ, STEVEN WILLIAM


GREEN, VERNON ANDREW


WILSHER, JOSEPH MICHAEL


JAKEL, CRAIG JAMES


KEYS, MICHAEL HENRY


ORR, PATRICK OREILLY


JAQUINS, CHARLES EGBERT


------------------------------------
DFCs and SILVER STARS AWARDED TO SILVER SPURS
SILVER STAR:
============================
DISTINGUISED FLYING CROSS:
TAYLOR, PHILIP C. - SGT - GO 6254, Dtd 9 Sept 71 - Posthumous - Sgt. Taylor perished with 1Lt. Knuckey inside Cambodia on 27 May 71 near Snuol.
Transcript of GO 6254 dtd 9 Sept 71 submitted by Chris Taylor, for addition to the official 1971 Spur record. Copy of original award now on file.
Department of the Army
Headquarters, 1st Aviation Brigade
APO San Francisco 96384
General Orders
Number 6254
9 September 1971
"NGUY HIEM"
AWARD OF THE DISTRINGUISHED FLYING CROSS
(POSTHUMOUS)
TC 439. The following AWARD is announced.
TAYLOR, PHILIP C. xxx-xx-xxxx SERGEANT Troop A, 3rd Armored Squadron, 17th Air Cavalry, APO 96289
Awarded: Distinguished Flying Cross (Posthumously)
Dates of service: 27 May 1971
Theater: Republic of Vietnam
Authority: By direction of the President under the provisions of the Act of Congress, approved 2 July 1926, AR 672-5-1 and USARV Supplement 1 to AR 672-5-1 dated 10 August 1970.
Reason:
For heroism while participating in aerial flight evidenced by voluntary actions above and beyond the call of duty: Sergeant Taylor distinguished himself by exceptionally valorous actions while serving as an aerial observer on a scout helicopter, enganged in a visual reconnaissance mission southeast of Snoul. Sergeant Taylor and his pilot discovered several enemy soldiers and a machinegun emplacement. When the enemy opened fire on the small aircraft, Sergeant Taylor returned fire with his machinegun, enabling his pilot to evade the fire and call in a circling gunship. After the assault helicopter had fired rockets into the hostile position, Sergeant Taylor and the pilot courageously flew back over the contact area to assess the rocket damage and secure more information on the size and location of the hositle forces. Suddenly, the small aircraft was caught in a crossfire, burst into flames, and exploded on impact with the ground. Sergeant Taylor's heroic actions and complete devotion to duty as an observer were in keeping with the highest traditions of the military service and reflect great credit upon himself, his unit and the United States Army.
FOR THE COMMANDER:
R. JOE ROGERS
Colonel, GS
Chief of Staff
OFFICIAL:
DAVID G. MATHIS
CPT, AGC
Asst. AG
============================
Additonal Historical Information

Video/Discussion on the Cambodia Operations - Posted 8 Mar 2015
15Feb71 AAR by Ed Kictarek - Posted 31 May 2012
Members of A Troop, 3/17th Air Cavalry in support of the ARVN 8th Regiment and 5th Infantry Division in Cambodia from 25 May 71 until 1 Jun 71 were awarded the Vietnamese Gallantry Cross. Below is a transcript of the certified translation of that citation provided by Dan Sutherland, a recipient of that award.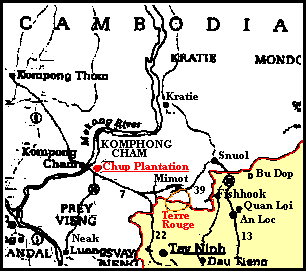 [Map courtesy of Dan Sutherland. Red denotes border]
It should be mentioned that during this Toan-Thang operation, both ARVN forces and our fellow Troopers encountered devastating resistance from numerically superior NVA forces stationed in Cambodia along Hwy. 7 near the Chup Plantation (pictured above) which resulted in many paying the ultimate sacrifice which included fellow Troopers Thomas W. KNUCKEY and Philip C. TAYLOR.

Sapper Attack!
The Troop fell victim to a sapper attack on July 28, 1971 at Lai Khe. The press reported: "Enemy demolition men blow up four U.S. helicopters and damage a fifth."
Very little remains of the Cobra below (and this is one of the larger pieces that remained) after the sapper attack....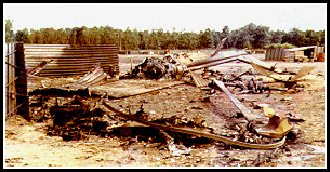 Dan Sutherland's collection
See: Vietnam Relived...
by Dan Sutherland
D Troop Rejoins Squadron at Lai Khe
"The July 1971 sapper attack at Lai Khe led to the reunion of D Troop, 3/17th [Bluetigers] with A Troop, 3/17th [Silver Spurs] for the first time in a long time. From the time I began my tour with D Troop in early November 1970, the troop had been opconned to a variety of combat units, including elements of the 1st Cav, the 25th Infantry, and the 11th ACR, and was never co-located with other 3/17th units.
From the beginning of my tour, D Troop was in the field in three different locations: on the west side of Nui Chua Chan at Xuan Loc; southwest of Nhon Troc; and northeast of Nui Ba Dinh in Tay Ninh. We fought as ground cavalry, with gun jeeps, two 81-mm mortars, a .50 cal machine gun, and a 106-mm recoilless rifle. We also stood down from field duty for short periods to provide security at Fire Bases Nancy and Judy, and to run mounted security for convoys from Fire Support Base Mace, all of which were in the vicinity of Xuan Loc. Our assignments developed our skills in daylight sweeps, night ambush, and perimeter security.
I believe we were in the field at Xuan Loc when we were ordered to Lai Khe. Scuttlebutt was that some birds had been blown up on the field, and that we were to provide security for a unit of the 3/17th. We were thrilled with the accommodations we found at Lai Khe for our troopers. Walls (made of wood), beds (made of iron), latrines (made of wood AND iron), showers, mess halls - God, had we died and gone to heaven as a whole troop? The job was even better - 1st Infantry Division bunkers, already built, for our nighttime entertainment, and helicopter rides, training the Thais how to do combat insertions, during the day. We liked it at Lai Khe.
Establishing security at Lai Khe proved to be a simple issue. On the first night we manned the bunkers, the procession of young ladies from Lai Khe village coming through the wire was substantial. They even made housecalls to the bunkers, expecting, I think, a different set of troopers. We disabused them of the idea that they were welcome on the base anymore, and after only a few nights, we no longer had to worry that someone caught strolling the flightline might be just a short-time girl. That made our night job much easier.
Socially, we were challenged at Lai Khe. Truth be told, we weren't really housebroken. Fights were not uncommon when D Troopers spent much time in rear areas. There was substantial animosity between the troopers of D Troop and people at our home bases. For example, we passed Phu Loi, our rear area, on our way to Lai Khe. The CO, Capt. Charles Bailey, directed us to stop at Phu Loi to take care of any business we may have with the clerks and such. When we reached the main gate of Phu Loi, we were prohibited from sending more than one jeep at a time onto the base, per the base commander. At Lai Khe, we ruffled the feathers of our squadron colleagues immediately. The first night on base, a Delta Trooper tried to get a beer in the A Troop Officer's Club. He was not well received. Subsequently, we built our own club in one of the hooches and excluded all but D Troopers (E-1's through O-3's).
I guess we really needed to be alone. We had, over time, adopted an "Us vs. Them" mentality by virtue of our position at the end of every supply line that the Army had. We were individually and severally angry with our lot. And we threw that anger at whomever happened to be passing by at the time.
D Troop was still at Lai Khe when I left on an early drop for graduate school at Ohio State in early September 1971. Two weeks after leaving Lai Khe, I found myself sitting in a graduate school classroom. That was really weird, and the social challenges continued. I worked on the housebreaking issue for the next couple decades.

Troop Stand-down Documentation
Fellow Spurs:
To date, there is no specific official stand-down document for A Troop from Vietnam. However, I rec'd the following from Steve Nagle who served with 12th Group which gives us some insight into the time-line. We know the troop lost Charles Jaquins on 22 Sep 71.
Roger "Bear" Young
DEPARTMENT OF THE ARMY
HEADQUARTERS, 3D SQUADRON, 17TH AIR CAVALRY
APO San Francisco 96289
AVBAUY-G
5 August 1971
SUBJECT: Letter of Appreciation
THRU:
Commanding Officer
12th Combat Aviation Group
APO SF 96266
TO:
SP4 Stephen W. Nagle
[SSN here]
Headquarters & Headquarters Company
12th Combat Aviation Group
APO San Francisco 96266
1. In July 1971, the 3rd Squadron, 17th Air Cavalry called upon you to prepare for turn in OH-58A helicopters for A Troop. Only through the outstanding manner in which you performed your duties were these aircraft turned in.
2. I realize that this additional work load took your free time and I wish to express my appreciation for the dedication and perseverance you have displayed. Your assistance enabled A Troop to provide full attention to accomplishing its combat missions.
3. By the support you have provided A Troop, you have earned the respect of 3d Squadron 17th Air Cavalry. Thank you for a job well done.
4. A copy of this correspondence will be placed in your 201 file.
[Signed]

CARL J. HAALAND
LTC, FA
Commanding

'71 Spurs Yearbook!
'71 Spurs Yearbook courtesy of Richard Schwab, Spur 13
---
This marks the end of this portion of Silver Spur history

© Northwest Veterans Newsletter - 1997-2013
---


---