In all our years of racing, there have been five significant highlights for the team in modern history.
For me, the 2001 Langley Loafers race at Mission, B.C. where we placed runner-up in Street Classic and the fans voted us the "Best Bitchin' Race Car" was a very memorable race.
For Chris, it was the 2006 National Open at Bremerton Raceways where he was runner-up in Super Pro:
Chris did capture his 1st Wally on July 5th 2014 at Champion Raceways at Medford, Oregon in Sportsman driving a borrowed ride. Details & photos posted here.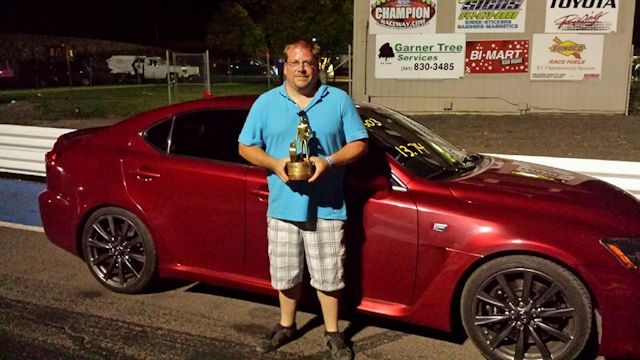 And for Paul it was the 2011 season at Pacific Raceways where he won two races and took the Sportsman Track Championship! He also went to the Northwest Division Six Team Finals on the team of Pacific Raceways and did very well at the race in Boise during the Labor Day weekend reaching the semi-finals in the Race of Champions!  Paul had a great year in 2011.
Related article: Sportsman Honored at Pacific Raceway's 2011 Banquet
Paul also won the Pacific Raceways Sportsman Championship again in 2013 proving that he is a force to be reckoned with! We have that championship documented here.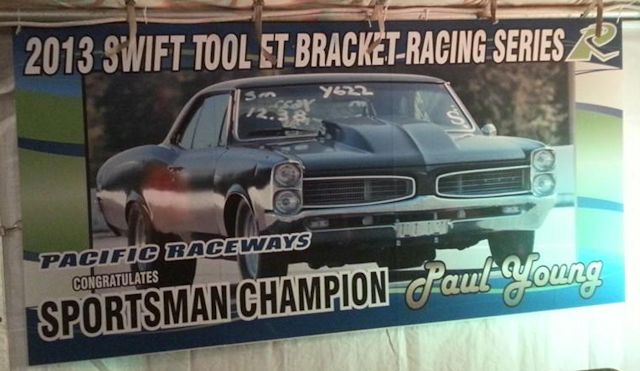 In 2015 Paul purchased his '85 Mustang to run in Sportsman adding a fourth car to our racing stable.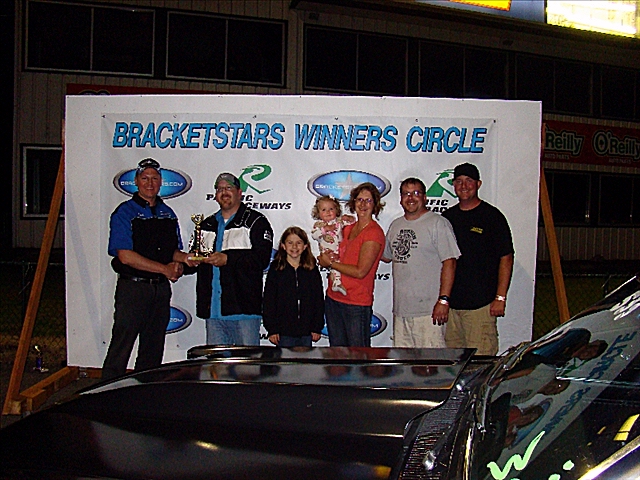 My glory days are certainly numbered, but there will be more great days for Chris, Paul & Torri. – Roger Young
Personal Record Runs
'57 Chev
Engine: 360 (350 +.060″ bore) Replaced 331 in 2015
Transmission: Richmond Gear (Doug Nash) manual pro-shifted 5-speed
Rear gear ratio: 5.67
Track: Pacific Raceways
Date: 7/10/2016
Air Density: 96.2
Density Altitude: 1335
Reaction Time: .028
60 Foot Time: 1.441 secs
330 Ft. Time: 4.238 secs
660 Ft. Time: 6.628 @ 102.00 mph
1000 Ft. Time: 8.707 secs
1/4 mile Time: 10.473 secs
1/4 mile MPH: 127.26 mph @ 8,400 rpm's
Weight with Driver: 3633
Pounds per cubic inch: 10.09
Driver: Roger Young
Engine: 331 (327 +.030″ bore)
Transmission: Richmond Gear (Doug Nash) manual pro-shifted 5-speed
Rear gear ratio: 5.83
Track: Mission, B.C.
Date: 6/19/99
Air Density: 98.7
Reaction Time: .018 secs
60 Foot Time: 1.420 secs
330 Ft. Time: 4.275 secs
660 Ft. Time: 6.676 @ 101.82 mph
1000 Ft. Time: 8.767 secs
1/4 mile Time: 10.545 secs
1/4 mile MPH: 126.84 mph @ 8,500 rpm's
Weight with Driver: 3580
Pounds per cubic inch: 10.82
Driver: Roger Young
'71 Chevelle Wagon:
2009 — 406 Engine:
Engine: 406 (400 + .030″ bore) with Motown intake and Pro Systems 1100 Dominator
Transmission: Manually shifted Village TH-400 with Hughes trans brake
Rear gear ratio: 4.88
Track: Bremerton Raceways
Date: 4/25/2009
Density Altitude: 504 ft.
Reaction Time: -.007
60 Foot Time: 1.374
330 Ft. Time: 4.135
660 Ft. Time: 6.490 @ 103.86 MPH
1000 Ft. Time: 8.549
1/4 mile Time: 10.308
1/4 mile MPH: 127.49 @ 7600 rpm's
Weight with Driver: 3656 (1713 front/1946 rear)
Pounds per cubic inch: 9.00
Driver: Chris Young
2005-2007 — 357 Engine:
Engine: 357 (350 +.040″ bore) with Tunnel Ram, two 750 Holley carbs
Transmission: Manually shifted Village TH-400 with Hughes trans brake
Rear gear ratio: 5.38
Track: Pacific Raceways
Date: 4/30/06
Air Density: 101.1
Reaction Time: -.012 secs
60 Foot Time: 1.444 secs
330 Ft. Time: 4.351 secs
660 Ft. Time: 6.832 @ 98.24 mph
1000 Ft. Time: 9.002 secs
1/4 mile Time: 10.854 secs
1/4 mile MPH: 121.17 @ 8,100 rpm's
Weight with Driver: 3637
Pounds per cubic inch: 10.19
Driver: Chris Young
'66 Pontiac Tempest:
Engine: 400 Pontiac
Transmission: TH-350 manually shifted
Rear gear ratio: 3.73
Track: Pacific Raceways
Date: 8/15/2015
Air Density: 96.7
Density Altitude: 1137 feet
Correction Factor: 1.0261
Reaction Time: .085
60 Foot Time: 1.647
330 Ft. Time: 4.861
660 Ft. Time: 7.627 @ 88.36 mph
1000 Ft. Time: 10.037 secs
1/4 mile Time: 12.096 secs
1/4 mile MPH: 109.08 mph
Weight with Driver: Unknown
Pounds per cubic inch: Unknown
Driver: Torri Young
'85 Mustang:
Engine: 347 (302 + .030″ bore stroked to 3.40″)
Transmission: C4 manually shifted
Rear gear ratio: 4.11
Track: Pacific Raceways
Date: 5/6/2017
Air Density: 98.4
Density Altitude: 628 feet
Reaction Time: -.016
60 Foot Time: 1.625 secs
330 Ft. Time: 4.767 secs
660 Ft. Time: 7.462 @ 90.82 mph
1000 Ft. Time: 9.803 secs
1/4 mile Time: 11.782 secs
1/4 mile MPH: 113.870 @ 6,000 rpm's
Weight with Driver: 3300#
Pounds per cubic inch: 9.51
Driver: Paul Young