Silver Spurs

A Troop, 3/17th Air Cav
Troop History March 1970
Redhorse Review Excerpts
The Redhorse Review was a monthly 3/17th Squadron newsletter published in-country. The following excerpts from our squadron newsletter were saved all these years by Bob Bennett, Blue Tiger 20 -- 7/69-7/70.
Bill Nevius, Delta Troop 3/17th webmaster graciously provided us copies for transcription.
Photos shown were not part of the original newsletter.
Roger Young -- Silver Spur webmaster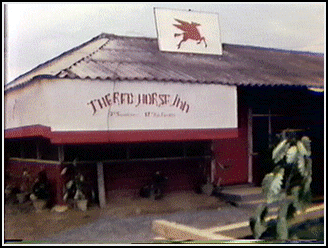 The Redhorse Inn
Courtesy of Spur Scout Tom White

From the March 1970 Edition:
the REDHORSE REVIEW
Volume 1 Number 6
Di An, Vietnam
March 1970

pg 2
REDHORSE REVIEW
Commanding Officer......LTC Gordon T. Carey
Information Officer.........1LT Charles S. McCulloch
Editor.................................Sp/4 Fredrick L. Glassford
The REDHORSE REVIEW is an authorized monthly publication of the US Army, published by the Information Office, 3d Squadron, 17th Air Cavalry, APO 96289 (telephone: Di An 2281). Newspaper circulation: 400 copies.
Opinions expressed in the REDHORSE REVIEW are not necessarily those of the Department of the Army. The services of the Armed Forces Press Service are used, and others sources as noted.
Contributions to the REDHORSE REVIEW should be sent to the Squadron Information Office NLT the 27th of each month.
=======================
page 1
A TROOP ROUTS NVA
Acting on information received from LTC Billy I. McRill, Commanding Officer, 13th Aviation Battalion; A Troop, 3d Squadron, 17th Air Cavalry proved the needed air support to suppress an NVA company size unit.
On February 17, 1970, A Troop (Silver Spurs) responded to information received from LTC McRill, who had observed five NVA in an open rice paddy approximately ten mile NE of Cau-Mau Run located south of the U-Minh forest. As the Silver Spur hunter-killer [pink] team arrived at the reported enemy location, a LOH ["Jody" crewed by PFC Roger Young] piloted by section platoon leader Cpt. Bill Reynolds from Macon, Georgia and Sp/5 Kevin ["Mac"] McCormick of Plantville, Conn., spotted four NVA hiding in the trees. Immediately, Cpt. Reynolds repeatedly fired devastating bursts from the LOH mini-gun. Their combined efforts resulted in four KBA. Further reconnaissance of nearby rice paddies combined with quick and accurate firepower from the LOH yielded six more NVA KBA.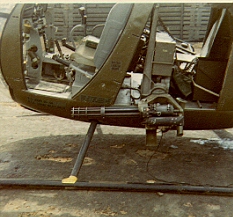 LOH Mini-gun -- Courtesy of Roger Young
Acting on intelligence information proved by Cpt. Reynolds and his observer, Airmission Commander Cpt. Franklin Bryant from Huntington Beach, California, decided to insert elements of the 32nd ARVN regiment, 21st ARVN Division. Approximately eighty ARVN troops were inserted by the Spur [Lift] aircraft in the immediate area of contact while the Spur Cobras suppressed a tree line adjacent to the LZ.
After the insertions were made, Spur scout W01 Dan Murphy from Kearney, N.J., flying a Spur LOH, led the ARVN's into action by providing information, direction, and covering fire in front of the advancing troops. While covering the ARVN's, WO1 Murphy and his observer Cpt. Jim Mecklenburg from Tacoma, Washington, spotted two NVA soldiers. WO1 Murphy kept the enemy contained while the airmission commander, Cpt. Franklin Bryant landed his UH-1H in an attempt to capture the NVA. When the Spur ship landed an American Adviser apprehended one NVA soldier.
The remainder of the operations consisted of a thorough sweep by the ground troops working in close coordination with Spur air cavalry. Cpt. Reynolds and his observer, SP/5 McCormick, continued to scout ahead of the ground troops finding and engaging small groups of NVA. Cpt. Bryant commented that, "It was a two man show. Cpt. Reynolds and his observer were digging them out of tall grass, pot holes, and everywhere. We had a difficult time keeping count." When the final tally was made Cpt. Reynolds and his observer ["Mac"] had accounted for 30 NVA KBA from their LOH.
Ground troops swept through the area and confirmed the number of kills even while the action was taking place. As they swept through, they engaged and killed 15 NVA soldiers and captured six. In addition, a number of weapons were captured including: one M-79 [grenade launcher]; one German Mauser; 5 M-16's; 5 AK-47's; and a K-54 pistol.
The combined action of the Alpha Troop Spurs and the element of the 32nd Regiment, 21st ARVN Division resulted in 36 KBA and 7 NVA prisoners
page 2
in the process completely destroying the company size enemy unit. The commander of A Troop, Major Arthur S. Dervaes III, commenting on the success of the operation said, "The results of the action here today demonstrate the courage, mission oriented spirit and high caliber of professionalism found in men of the Silver Spur. It is in small hastily developed contacts such as this where the air cavalry troop is at its best." [End]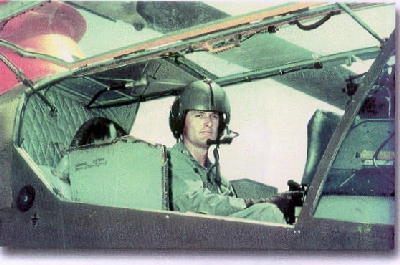 Frank Bryant
Courtesy of Frank's daughter, Katherine
Please also see: In Loving Memory of Frank Bryant
=======================
page 6
LOGISTIC READINESS AWARDS
Congratulations are in order to all personnel listed below. They executed that extra effort to be recognized by their respective troops for the December Logistical Readiness Awards competition. Each individual will receive a $10.00 check for his outstanding performance.
A Troop
Bohaboj, Joseph C. -- Sp5 -- Superior Job Performance
Brake, Grady W. -- Sp4 -- Soldier of the Month
Gehringer, Frank E. -- PFC -- Best Cook
Moore, William R. -- Sp4 -- Best Driver/Mechanic
Medina, Diaz R. -- Sp4 -- Best Supply Clerk/PLL Clerk
Brandenburg, Paul -- Sp4 -- Best Aircraft Mechanic
=======================
page 9
SILVER SPUR NEWS
'TWO SPURS FLY BY AMMO DOORS"
The FM radio chattered harshly, "scramble the second team, a LOH is down". Out in a paddy west of Soc Trang , WO1 Bill Smith from Pittsburgh, Pa. and his observer, Sergeant Marion Hill from Mtn. Home AFB, Idaho, leaped out of the burning wreckage of their now destroyed LOH. No sooner had they cleared the flaming aircraft than the lead cobra commanded by Cpt. Donald Duncan from Columbus, Ohio, landed to extract the crew. While they hustled aboard the cobra's ammo bay doors , tail cobra air commander CW2 Terry Shulze from Tacoma, Washington, pounded the woodline that had been the source of hostile fire directed against the LOH. Starting with his mini-gun, then rockets, and covering his breaks with mini-gun fire, CW2 Shulze raked the area until Cpt. Duncan could lift off and proceed to Soc Trang with the crew precariously hanging on to the cobra's ammo doors.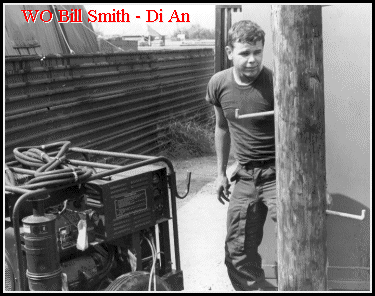 Courtesy of Bill Smith


Sgt. Marion Hill courtesy of Charles Womble
WO1 Smith reflected upon the incident later that day, "All I could think about was to get my observer and myself away from the ship, because the min-gun ammo and grenades were starting to cook off and Charles was shooting at us. " WO1 Smith commenting upon the cobra ride said, "The finest sight I've ever seen was that cobra on its final approach coming in to pick us up. We were soaked from the rice paddy and the ride back was windy and cold, but it just didn't matter. The main thing was that we were heading for home."
Luckily, neither the pilot nor the observer was injured, but, needless to say, both will remember the events of the day, particularly that wild ride on the cobra. [End]
For more first-hand reports on the incident above, please see: 1970 Spur History Page
=====================
[Webmaster's note: Due to the poor quality of the original, there could be some errors in the following transcript]
SPUR CREW CHIEF BAGS FIRST KILLS WITH FIFTY CALIBER XM-59
"Charlie's not the only one [using] a .50 caliber," says Silver Spur Huey crew chief Sp/5 Robert Bretschneider of Atlanta, Georgia. In a recent air cavalry operation 25 miles northwest of Ca Mau, south of the U-Minh forest in the Mekong Delta, Sp/5 Bretschneider backed up his statement in a gun battle with the NVA. While manning a newly mounted XM-59 . 50 caliber machinegun on his UH-1H, he skillfully engaged a group of 4 NVA soldiers who were attempting to evade a Spur scout flying low level reconnaissance. After the smoke cleared the scout confirmed two KBA's and two probably kills and Sp/5 Bretschneider had the first two kills with the .50 caliber XM-59 in A Troop and Squadron to his credit. As a result of quick thinking and straight shooting, Sp/5 Bretschneider was presented the Air Medal for Valor by Colonel William -- Maddox Jr., Commanding Officer 164th Avn. Grp. at a recent Awards and Decorations ceremony at Soc Trang, Republic of Vietnam.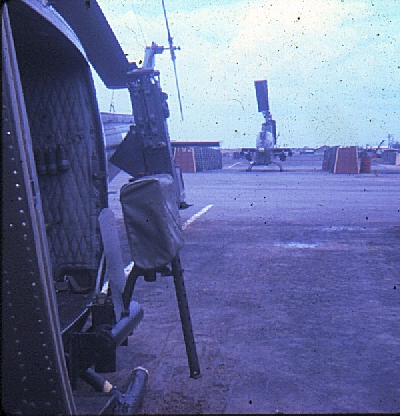 XM-59 .50 cal

Courtesy of John Garrison - Lift Crew chief
Sp/5 Bretschneider had nothing but praise for the new weapon system. "Surprisingly enough, because of its weight, it's easier to handle then the M-60. It's far more stable and it's easier to concentrate fire on a target, mostly because of it's faster fire rate, greater range and it really tears up the area. Bunkers, hootches and sampans disintegrate once you're on target." [End]
=======================
page 5
[REDHORSE - LTC GORDON T. CAREY] COMMANDER'S NOTES
The coming three to four weeks will be marked by relocation and consolidation of Redhorse elements into just wo locations here at Di An. Almost everyone will be affected by the move, but the new areas and improved quarters will more than compensate for any personal discomfort during moving days.
With the departure of the 1st Infantry Division elements and the arrival of new tenants at Di An, several moves by present and past occupants were dictated. Redhorse elements will vacate the portion of North Post occupied by Charliehorse and the Blue Tigers and that portion of South Post occupied by Stogie. Our new configuration will find Stogie and Charliehorse living in the present 1st Infantry Division Training Area and the Blue Tigers will be occupying the area now owned by the 121st Signal Bn., adjacent to Headquarters Troop. Their moves will provide better quarters with both bath and latrine facilities, better mess halls, better clubs and more living space. I am looking forward to these moves and the better living conditions for the troopers of Redhorse, who deserve the best available. [End]

© 3/17th Air Cavalry Squadron
---


---