2011
Post-Race Reports:
1st - 4th September 2011 - Firebird Raceway, Boise, Idaho - '66 Pontiac, Division 6 ET Bracket Finals
Please see our blog report at: Northwest Division Six Team Finals!
Paul had an outstanding weekend at Boise! - Roger
26th- 28th August 2011 - Pacific Raceways - '71 Chevelle, NW Summer Bracket Nationals
After the 2nd qualifying hit on Friday, the left slick was rubbing hard against the frame rail. Chris also noticed a crack in the weld of the left axle tube to the center section. We undoubtedly bent the axle tube in our old 12-bolt which ended our weekend. Over the winter we plan to upgrade to a 9-inch Ford using our spare Strange center-section from our '57 with new 4.71 rear gears, a rear-braced Scribner housing with new axles, ladder bars and track locator.
It was a major disappointment but the good news was that we didn't damage the rest of the car and that Chris is safe!
13 August 2011 - Pacific Raceways - '71 Chevelle, Pacific Raceways Electonic Shootout
Chris took the Chevelle out this evening and broke a distributor rotor when he shifted into 2nd gear in the 1st round. The rotor came loose and destroyed the distributor cap in the process.
He replaced the cap & rotor and recorded a 10.43 @ 126.6 MPH in the buy-back round but redlighted by -.008 seconds. The good news is that the distributor pickup or engine weren't hurt!! So now it's on to the Northwest Bracket Nationals at Pacific Raceways the weekend of August 26th thru the 28th!
Here's some chassis video of the Chevelle taken today:
30 July 2011 - Pacific Raceways - '66 Tempest - Paul Young Wins Pacific Raceways 2011 Sportsman Championship!
In what can only be described as a very bizarre evening at PR, Paul won the Sportsman Track Championship at Pacific Raceways! Paul won the first round running a 12.55 on a 12.54 dial-in before the race was called due to multiple oil downs that would have pushed the event past the curfew deadline. Points were frozen after the first round and Paul maintained his 3-point lead over Bill Cadle to take the championship.
This is a real 'big deal' for Edwards & Young, Paul being the very first member of the team to win a track championship in any category over our decades of racing! We're extremely proud of Paul winning two events this season driving Torri Young's '66 Pontiac Tempest.
Paul adds; "What was fun also this year was meeting guys like Bill Cadle, Dustin Ward and many others who race in Sportsman that are very sportsmanlike in winning, defeat or just giving general support to one another. That is what racing is all about which seems to disappear at times. Thanks to all for their support and can't wait until the season ending banquet."
Finalized Pacific Raceways Sportsman Points Standings - Courtesy of Pacific Raceways
Pacific Raceways News Article, Aug 1, 2011:
Pawn X-Change ET Bracket Series Concludes
(KENT, Wash) – The chase for the 2011 Pawn X-Change Drag Race Series at Pacific Raceways ended Saturday night in a freaky finale to an odd season that unfortunately featured four rain-outs in the 11-race series. At one point in the season there were three rain-outs in the first four races.
On Saturday night, a couple of massive oil downs led to an aborted conclusion with only one round of Super Pro, Sportsman and Motorcycle and two rounds of Pro completed. The decision not to make-up the race on another date was a consistent policy the track followed all year.
Regardless, it was a huge disappointment. With Motorcycle the only class with season points decided heading into the race, Saturday night was shaping up to be a good old fashion shoot-out.
In Super Pro, three drivers had a shot at the season title. Tim Schmitt, who seemed to have an insurmountable lead through much of the season, suffered another first round loss; and this one cost him the championship. Both Al Chinn and Steve Glenn, his two closest rivals, both won their first rounds setting up an epic showdown. Unfortunately, it was a showdown that never happened. After a huge effort to get the track race-ready by the Pacific Raceways drag crew, the 11 p.m. curfew signaled an end to the championship points-chase. Chinn finished in first place with 253 points followed by Schmitt with 248 and Glenn with 246.
Bill Windley took the Pro points honors followed closely by Zach Craig, Brian Gittings, and Todd Kenner. In Sportsman, the Pontiac of Kent's Paul Young finished just 3 points in front of Bill Cadle with Dustin Ward right behind him. Jacob Havens, who dominated the Motorcycle class this season, finished well ahead of second place Jim Funderburg.
23 July 2011 - Pacific Raceways - '66 Tempest
The track at Pacific Raceways was not very good for most of the day until around 9 or so in the evening which reflected in the 60' times as the best I had all night was 1.733 and a worst of 1.749 without the bog off of the line, that fortunately happened in the 2nd qualifying hit and not in eliminations.
I won the first round as my opponent redlighted but I didn't know until I reached the time booth as the win light was not working in the left lane for some reason. I lost in the 2nd round as my opponent cut a .018 to my tardy like .079 light even though I ran much closer to the dial but just couldn't catch him. I still hold a very slight 3-point lead going into the final points race of the season but either way it is going to be a dogfight next Saturday for the 2011 Sportsman track championship!
16 July 2011 - Pacific Raceways - '71 Chevelle & '66 Tempest
Preliminary report:
Pacific Raceways reports; "Paul Young and [Torri's] 1966 Pontiac picked up the Sportsman win over a red lighting Chris Johnston and holds a narrow [13] points lead over Dustin Ward."
This is Paul's second win this season in what has become a very tight points race in Sportsman bracket!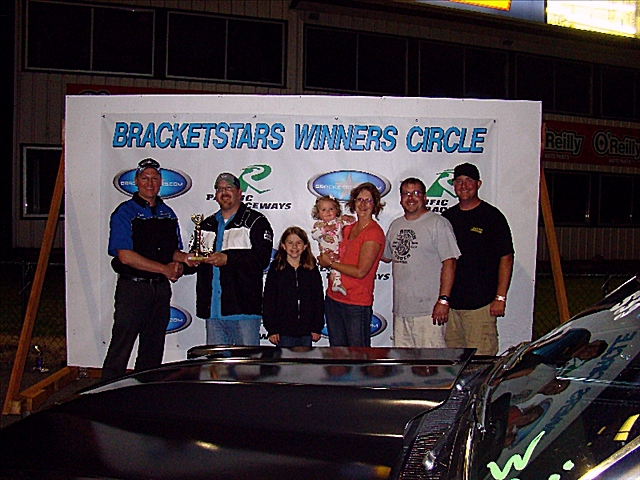 Chris in Super Pro made it again to the 3rd round before being eliminated and cut a perfect light during the 1st round of eliminations and is currently in 15th place in Super Pro after only participating in three points races.
Overall an excellent evening by Paul & Chris!
9 July 2011 - Pacific Raceways - '71 Chevelle & '66 Tempest
Chris & Paul both raced on what was a beautiful evening at Pacific Raceways.
In the 1st round Chris won easily coasting to a 10.503 at only 112.66 mph on a 10.42 dial when his competition went to sleep on the starting line. The 2nd round was a close one with Chris running a 10.399 on a 10.39 dial at 126.51 mph and needed and outstanding .007 reaction time to take the win.
In the 3rd round Chris left just a tad early with a -.011 reaction time against the always tough, Dale Green. Chris ran the wagon thru recording a 10.357 @ 127.27 mph in the excellent night air.
Paul did an excellent job this evening in the Torri's Tempest making it to the 4th round before being eliminated and earning some valuable points in the points chase in Sportsman
In the 1st round, Paul ran a 12.452 on a 12.45 dial at 106.840 mph to take the win.
In rounds two & three, he left on his competition and was on the brakes at the finish line for the easy wins.
In round four he left a bit early and ran a 12.404 @ 107.360 mph in the night air. Paul is currently in 5th place only 10 points back of 2nd and 21 points out of 1st in Sportsman after missing one race. He's still in the hunt in Sportsman!
24-26 June 2011 - Bremerton Raceways - '71 Chevelle
Friday Report: Chris got one time run this morning recording a 10.405 @ 127.49 MPH before the heavens opened once again halting racing for the rest of the day. But the weather forecast is for improvement on Saturday & Sunday for this National Open event.
Saturday Report: Chris got one time run this day before going into the 1st round. He dialed-in at a 10.39 and ran 10.407 @ 127.46 with a .016 light to lose by a margin .0127 seconds! UGH !
Sunday Report: Chris got two time runs this day before the 1st round. He dialed a 10.45 and ran 10.440 @ 123.57 (on the brakes) to break-out closing this weekend at Bremerton.
If you been wondering about our lack of reports this season, it is because of mother nature! Four events have been rained out thus far at Pacific Raceways with no sign of Spring or Summer here in the Northwest! But compared to other parts of the country dealing with destructive weather, we've been fortunate! - Roger
14 May 2011 - Pacific Raceways - '71 Chevelle & '66 Tempest
This event was cancelled due to rain, but we do have a video and you can take a ride with Chris in our '71 Chevelle during his 2nd qualifying pass:
Paul won the first round before the rains came in Sportsman in the '66 Tempest and still remains undefeated in eliminations thus far this season!
Both cars were off their pace today with sub-par traction on the starting line. Track prep was marginal.
23 April 2011 - Pacific Raceways - Paul Wins Sportsman Opener at Pacific Raceways! - Updated 30 Apr 2011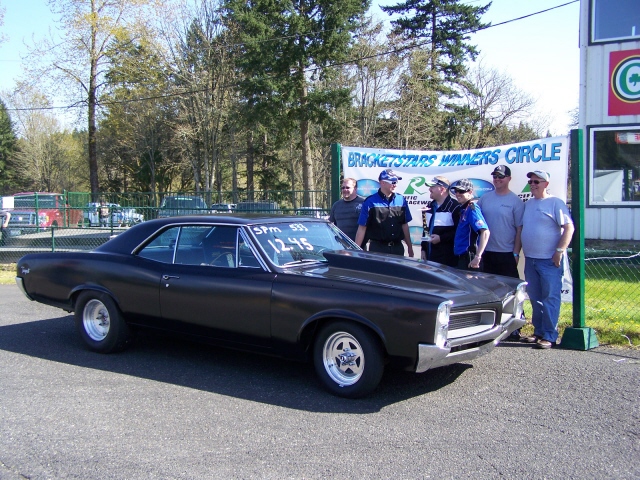 Just heard the great news from Chris via phone, Paul won the season opener race in Sportsman bracket today at Pacific Raceways in the '66 Tempest. Paul also recorded the perfect light in the 3rd round with a .000 reaction time and was killer on the tree all day!
In the final round his opponent left too early giving the win to Paul who ran it through clicking the timers with a 12.41 on a 12.45 dial-in.
PR reports: "The Sportsman final was won by Paul Young in his 1966 Pontiac Tempest topping Jerry Biscay in the final round 12.414 at 106.52 to Biscay's 14.690 at 93.29 mph."
We'll have more on the race in the coming days after Paul records all the data. This is an EXCELLENT way to start the year for Paul recording his very first win and the first win for the team in a very LONG time!
Congratulations Paul !!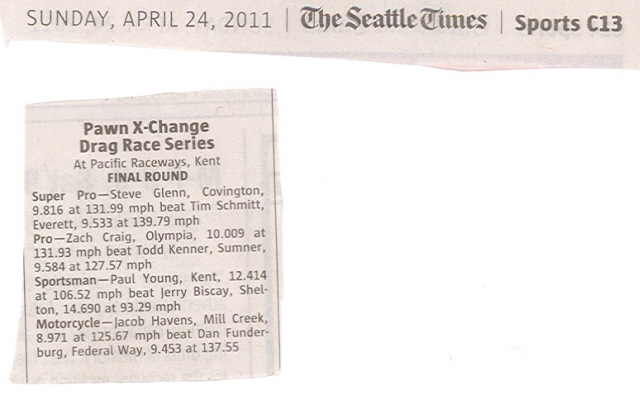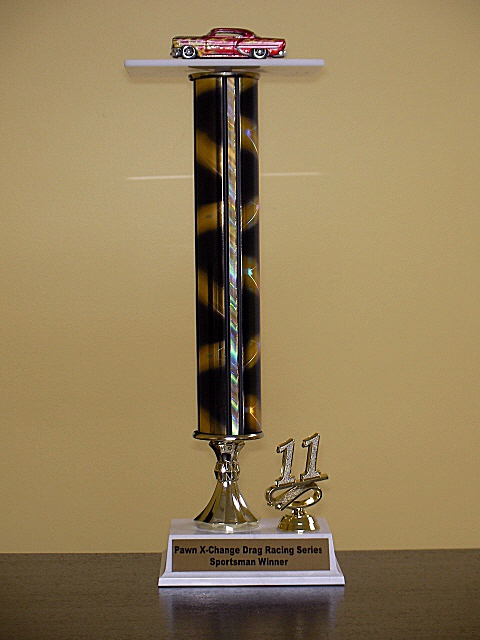 From Paul on 30 Apr 2011:
Wow, what an exciting day it was! It started out not so great as the battery on the Pontiac croaked on us as my super crew chief had to jump start it to get us on our way to PR. It croaked again after getting some Sunoco racing fuel at PR but the Warnkes saved the day by graciously loaning us an extra battery they had. From there, needless to say it was all great as the old Pontiac ran flawlessly and all of the tips from Dad and Chris along with endless practice on the portable tree paid off!! I cut a perfect light in the 3rd round and .004 in the final after my opponent red lighted so ran it all out to the tune of 12.41 which is just off of our record run of 12.38 from last year. My goal going forward is to just continue what I am doing without trying to be too perfect. I want to finish by saying teamwork has and always will be my #1 priority when it comes to our family racing or anything that we do as there is no disputing that we are most successful that way so thanks to all of you!!
Chris and myself will be back at it next Saturday with both the Wagon and Pontiac, look forward to seeing all of our friends and family at the track!
4-5 June 2011 - Pacific Raceways - '71 Chevelle & '66 Pontiac
Saturday the 4th was the National Dragster Challenge which was held on a beautiful weekend. Chris ran in Super Pro & Paul in Sportsman. Paul lost in the 2nd round and Chris in the 3rd round to Jason Beggerly. Sunday would be a regular bracket points race at PR.
On Sunday during the points race, both were 1st round ducks, so they both entered the "2nd Chance Race" - a new feature on a limited basis at PR. Paul lost in the 1st round when he turned the tree red, and Chris lost in the semis to Dallas Glenn when Chris admittedly cut a "snoozer" light giving the race to Dallas. In the "2nd Chance Race" it was "run what you brung" pitting dragsters, bikes & Sportsman in one category. In the 2nd round Chris ran a 10.470 on a 10.47 dial-in with a .011 reaction time.
The good news; both cars are running very well and Paul still leads the points in Sportsman by a narrow 10-point margin!