Veterans

Spotlight
Profile of a Vet
Submitted by Spur 12, Dan Murphy - Author unknown
* Vietnam vets are less likely to blindly accept the orders and perceptions of others.

* They are perhaps more likely to measure others by their reliability (i.e., is this someone with whom I could share a foxhole?)

* They are less hung up on appearances, less easily fooled, and have had enough bullshit thrown at them that they may see through it a little better than others.
"Many of us have violent tempers, see adrenaline-rush activities, are workaholics, alcoholics, and are maintaining but still sitting on explosive energy."
"We know how to take orders and give orders. We have shared our canteens with all classes of people. We've seen death close up. We've experienced big-time loss. We've faced our own fears and found our own courage. As a result, we are different in a way that the Indians understood and prized, but which our society does not understand and often fears."
"We have had the experience of being judge, jury, and executioner. Many of us were free to take life without having to account for our reasons. We were all affected by having that incredible power of living through an experience in which there was no law - we were the law."
==========================
"They Were Heroes Too"
by Richard Ben Cramer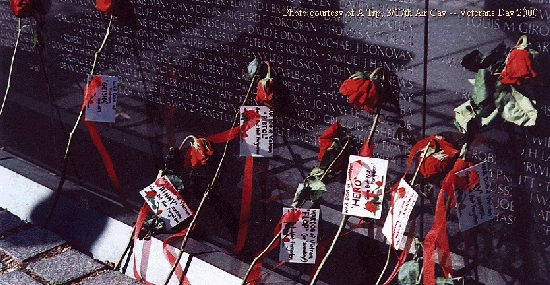 War Dogs Remembered at the Wall
Veterans Day 2000 by Vietnam Dog Handlers Assoc.

Photo courtesy of The Northwest Veterans Newsletter and the Silver Spurs
==========================
The Vietnam Wall Experience 2001
After-action Reports!
Share in this Exciting Experience!
Photos from the Moving Wall and Memories from the Moving Wall
by Roger & Pam Young
Meeting at the Wall
By Chuck Oualline - Silver Spur 3
==========================
Willing And Able
by Redcatcher Bob Himrod
==========================
A Promise Kept: Lt. James R. McQuade,
Blueghost 10, Home at Last...
Courtesy of Roger & Pam Young
==========================
Lest We Forget
by Silver Spur Terry Shulze
==========================

Long Beach Vietnam Veterans Memorial

Artist conception of what will become the final resting place for the Spur's UH-1C gunship, #66-15028. Our sincere thanks to VVA Chapter 756 and the city of Long Beach for including one of our former helicopters as the centerpiece of their beautiful memorial in honor of their city's 103 best who paid the ultimate sacrifice. We'll have full reports in the future from the dedication.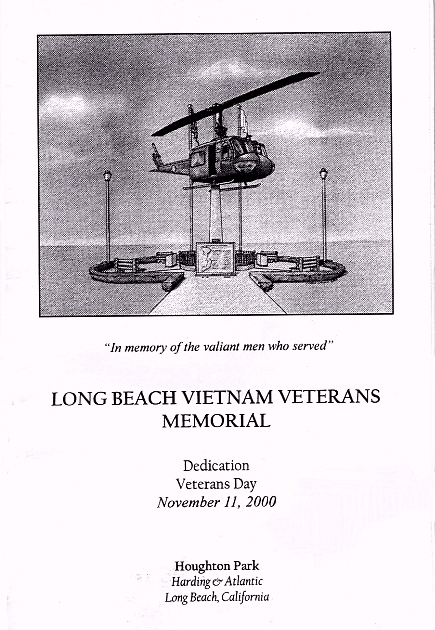 Courtesy of Terry Shulze
From the dedication brochure:
"Why a U.S. Army Helicopter UH-1C 'the Huey' was
chosen for the Vietnam Veterans Memorial"
"For those who served in Vietnam, regardless of the branch of service, the Huey Helicopter was the mainstay of their existence. It brought their food, water, ammunition, medicine, changes of clothing and letters from home. It was their ticket to R&R and a lifesaver for the wounded in battle. It was their rescuer and their relief. For some the helicopter may be seen as a war machine, but for those who served in Vietnam it was a MEDI-EVAC and flying bus, a logistical necessity of war. And for the over 100 military men from Long Beach who died serving in Vietnam, it was the Huey that gave them their last ride that brought them home.

"The emotional attachment to the Huey Helicopter by the Vietnam Veterans may only be understood by those who served. But the choice of this durable war-bird as the centerpiece for the memorial is a choice made by the courageous veterans who were there.

"The U.S. Army Helicopter UH-1C, chosen to be the centerpiece of the memorial, and like our honored heroes, served in combat in Vietnam. It has a proud history, with 37 months of active service, and over 2700 hours of flight time. While under enemy fire, it sustained critical damage on several occasions with no recorded military fatalities. It served with Troop A 3rd Squadron 17th Cavalry, the 240th Assault Helicopter Company, the 56th Transportation Company, and the 166th Transportation Company. After the war, it was returned to duty with the National Guard where it remained until 1976. In October of 1996, it became a part of the Darkhorse Group, a Military Aviation Museum at the Long Beach Airport, where it was refurbished in readiness for its final resting place.

"As the centerpiece of the Long Beach Vietnam Veterans Memorial, the Huey and all that it represents will provide the opportunity for future generations to reflect on the men and women who served their country, especially the one hundred and three Long Beach citizens who have made the supreme sacrifice." [End of this page]
LONG BEACH VIETNAM VETERANS MEMORIAL
THIS MEMORIAL HONORS THE MEN OF LONG BEACH WHO PAID THE
ULTIMATE PRICE FOR FREEDOM IN SERVICE TO THEIR COUNTRY
1965:
Peter A. Semmer
1966:
Richard G. Allen, Ivan J. Broyles, Richard E. Crowe, Franz G. Prediger, Anthony R. Bosh, Gerald Johnson, Michael P. McConahay, Edmond San Marcos, Marshal L. Horton, Alfred L. Davis,
1967:
Robert L. Painter, Roy C. Green, James B. Cummings Jr., Earlie C. Hamilton Jr., Joseph P. Murphy, David A. Richardson, Marc A. Brown, Randy N. McPhee, David L. Gale, James K. Patterson, Carl D. Nagengast, David A. Haraldson, George M. Walkinshaw, John T. McMahon, Herbert A. Warner Jr., Kenneth A. Millard, James B. Walters, Jerry E. Butts, William E. Compton III, Paul D. Caramella, Wayne R. Kloese, Alfred F. Alvarado, Robert B. Griffiths, Ronald P. Ruyff, James R. Jones, Michael J. Kiley, John W. Hartman, Jim L. Harnden, Jay L. Wright, Robert D. Kline, Patrick E. Anglim, Robert L. Boyer
1968:
Robert L. Heller, Elliot W. Moore, Daniel Diaz, Richard R. Rehe, Innes L. Marland, Howard C. Bell, Glenn M. Hayden, John W. Cook, James C. McPhearson, Benny K. Sanchez, Dennis L. Knott, Richard J. Smith, Gary O. Schlamp, Clint Collins, Edward A. Zimmerman, Richard A. Bowers, Gilbert H. Muncy, Christopher L. Kurtz, Steven F. Dolim Jr., Randall T. Planchon II, Steven L. Graham, Richard A. Whipkey, Roosevelt Sherman Jr., Henry L. Bradshaw, Charles L. Toyias, John B. Stevens, Rocky L. Blair, William D. Nelson, Jerry R. Hardy, Terrance L. Mercke
1969:
David A. Eckoff, Gregory M. Leinen, Ronald J. Corbin, Rhena C. Webster, Michael L. Woodside, Leslie W. Worl, Harry L. Morris Jr., Theodore R. Vivilacqua, Steven C. Owen, Rickey D. Dycus, David R. Maier, Paul A. De Vegter, James M. Mooney, Ronald L. Short, Rodney D. Little, George A. Guy, Gary W. Lahna, Robert R. Baade II, Larry M. Cleveland, Charles E. Shultz, Robert M. Newburg, Patrick L. Purdin, David Williams III, Ernest T. Badostain
1970:
Richard J. Connelly, Michael E. Justus, Harvey D. Rogers Jr., Andrew D. Allen
1971:
William G. Hasselman, Randall B. Bernard
THEY CHOSE TO SERVE, NOT RUN
THEY CHOSE TO OBEY, NOT DEFY
THESE QUALITIES REPRESENT AMERICA'S BEST
WELCOME HOME
VETERANS DAY 2000
Dedicated by the Vietnam Veterans of America, Long Beach Chapter #756
The City of Long Beach and Councilman Jerry Shultz, Ninth District
Partners of the Parks
Darkhorse Group Military Aviation Museum
Friends of the Long Beach Vietnam Veterans Memorial
Update: May 2001
Chapter 756 reports: "...tail number 66-15028 will be placed at its final resting place on top of the pole in Long Beach Ca tomorrow 5-15-2001 at 0800. The memorial is located at the corner of Atlantic Ave and Harding St. in North Long Beach CA. After 5 years of hard and back breaking work it is finally done. Now phase 2 will commence. Thanks to Troop A 3/17 and 240 AHC for all their imput. Mike Oravetz Chapter 756 -- Long Beach CA"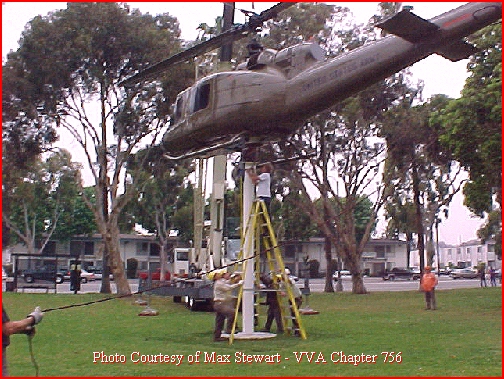 The Spurs offer a sincere "thank you" to Chapter 756 for all their hard work, the hoops they have had to jump through, and also to the Darkhorse Group, a Military Aviation Museum at the Long Beach Airport, who donated our ol' UH-1C to be a part of their beautiful memorial dedicated to those who made the ultimate sacrifice in Vietnam from Long Beach, CA.
Regards,

Roger Young - Spurs' webmaster
Update: Dec 2001
Vietnam Veterans of America, Inc. Chapter 756
P.O. Box 90994
Long Beach, CA. 90809

Col Glynn Decoteau, Ret.
And all Silver Spurs
[Address here]
Dec. 1, 2001
Dear Col. Decoteau and Fellow Veterans of Troop A 3/17th Air Cav (Silver Spurs)
It is an honor to receive the beautiful plaque that your organization has so graciously given to those of us at Chapter 756 Vietnam Veterans of America. I'm sure that you will be able to view this plaque on our web-site in the near future, along with pictures of the completed Memorial. It is a tribute to one of our members Mike Oravetz, that he was able to locate actual crewmembers of the Huey that is standing in a peaceful setting in one of Long Beach's parks for the rest of time.
When the Huey was mounted, a local press photographer took its picture during the early evening hours. He apply published it in the local paper with the perfect name, "The Last Mission." What more could be said?
Again we thank you for the plaque which will always remain special to us as you are the only group that has publicly acknowledged our chapter's involvement in this undertaking and we look forward to the day when you may visit and see the memorial in its totality.
Sincerely,
[Signed]
Dave Deluca Ph.D
President Chapter 756
"Now let the healing begin"
----------------
I thank Glynn (gsdeco67@centurylink.net) for all his efforts in providing the plaque on behalf of our entire troop to Chapter 756 and the Darkhorse Group Military Aviation Museum. Glynn was our troop's original Rifle platoon leader, and I thank Glynn personally for his friendship and continued leadership.
Roger Young - Spur webmaster
April 2004:
Background on 66-15028 by Chuck Oualline
© 2004